La guerre du faux : I. La cité des automates
Par Patron, lundi 10 octobre 2011 à 01:00 :: LECTURES :: #1073 :: rss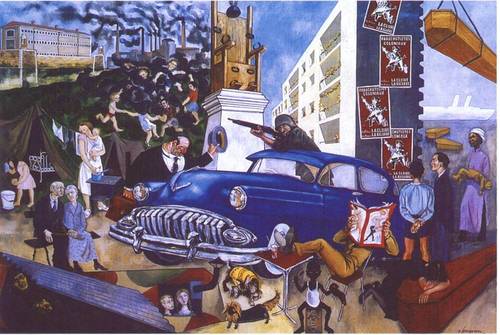 "
Le futur avec sa violence a banalisé les histoires du passé. Disneyland est dans ce sens beaucoup plus astucieuse, car elle veut être pénétrée sans que rien vienne rappeler le futur qui l'entoure. Marin a remarqué que la condition essentielle pour y accéder était d'abandonner sa voiture dans un parking et d'arriver aux abords de la ville du rêve avec les petits trains mis à la disposition du public: laisser sa voiture, pour un Californien, c'est abandonner sa propre nature humaine, pour se livrer à un autre pouvoir et démissionner de sa propre initiative.
Allégorie de la société de consommation, lieu de l'imagerie absolue, Disneyland est aussi le lieu de la passivité totale. Ses visiteurs doivent accepter d'y vivre comme ses automates: l'accès à chaque attraction est réglé par des mains courantes et des barrières de tubes métalliques, disposés en labyrinthe, qui découragent toute initiative individuelle. Le nombre des visiteurs impose partout de faire la queue; les fonctionnaires du rêve correctement vêtus de leurs uniformes adaptés à chaque lieu spécifique n'introduisent pas seulement le visiteur au seuil du secteur choisi, mais en règlent chaque pas ("voilà, maintenant attendez ici, maintenant montez, asseyez-vous, attendez avant de vous lever", toujours sur un ton courtois, impersonnel, impérieux, au micro). Si le visiteur paie ce tribut, il pourra non seulement avoir droit à la "chose vraie" mais à l'abondance de la vérité reconstruite.
Même Disneyland, comme le château de Hearst, n'a pas d'espaces de transitions, il y a toujours quelque chose à voir, les grands vides de l'architecture et de l'urbanisme modernes lui sont inconnus. Si l'Amérique est le pays du Guggenheim Museum ou des nouveaux gratte-ciel de Manhattan, alors Disneyland est une exception curieuse et les intellectuels américains ont raison de refuser de la visiter. Mais si l'Amérique est aussi le pays que nous avons vu au cours de notre voyage, alors Disneyland en est la chapelle Sixtine et les hyperréalistes des galeries ne sont que de timides voyeurs d'un immense et perpétuel "objet trouvé".
"
"Tomorrow, with its violence, has made the colors fade from the stories of Yesterday. In this respect Disneyland is much shrewder; it must be visited without anything to remind us of the future surrounding it. Marin has observed that, to enter it, the essential condition is to abandon your car in an endless parking lot and reach the boundary of the dream city by special little trains. And for a Californian, leaving his car means leaving his own humanity, consigning himself to another power, abandoning his own will.
An allegory of the consumer society, a place of absolute icon-ism, Disneyland is also a place of total passivity. Its visitors must agree to behave like its robots. Access to each attraction is regulated by a maze of metal railings which discourages any individual initiative. The number of visitors obviously sets the pace of the line; the officials of the dream, properly dressed in the uniforms suited to each specific attraction, not only admit the visitor to the threshold of the chosen sector, but, in successive phases, regulate his every move ("Now wait here please, go up now, sit down please, wait before standing up," always in a polite tone, impersonal, imperious, over the microphone). If the visitor pays this price, he can have not only "the real thing" but the abundance of the reconstructed truth.
Like the Hearst Castle, Disneyland also has no transitional spaces; there is always something to see, the great voids of modern architecture and city planning are unknown here. If America is the country of the Guggenheim Museum or the new skyscrapers of Manhattan, then Disneyland is a curious exception and American intellectuals are quite right to refuse to go there. But if America is what we have seen in the course of our trip, then Disneyland is its Sistine Chapel, and the hyperrealists of the art galleries are only the timid voyeurs of an immense and continuous "found object."
La guerre du faux 1973-1983 (The city of robots), Umberto Eco, 1985.
()