PARADIS POUR TOUS (1982)
Par Patron, mercredi 9 novembre 2011 à 15:06 :: FILMS 80's :: #1097 :: rss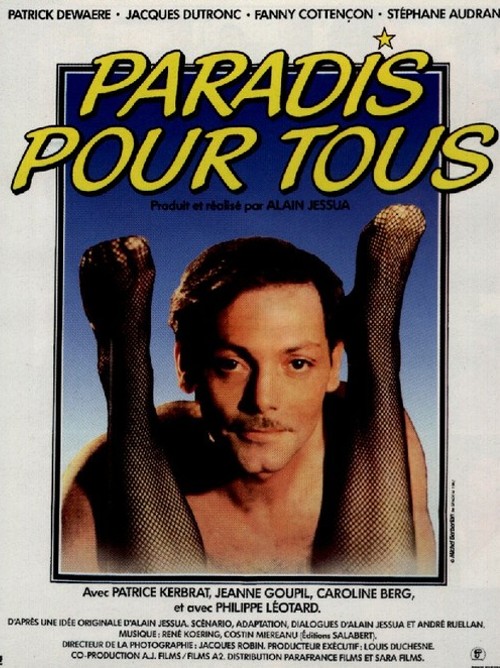 Défense de sortir. Alain Jessua n'est pas un réalisateur français comme les autres, alors écoute. Il pourrait s'apparenter à
Yves Boisset
dans la verve, version science-fiction. Très peu de films à son actif, ce qui permet de mieux apprécier la qualité. Pendant les affreuses année 60, où il bosse comme assistant (comme tout le monde), il signe
La vie à l'envers
avec Charles Denner et sort déjà du lot avec
Jeu de massacre
en 1967, cartoon devenu réalité sous la plume de Jean-Pierre Cassel. C'est
Traitement de choc
six ans plus tard qui le fait vraiment décoller. Alain Delon (
nu pour toi
) est le docteur en chef d'une clinique de rajeunissement sur une île au climat exotique, Belle-Île-en-Mer! Annie Girardot est sa nouvelle patiente qui découvre l'horreur de ce lieu, des bourgeois partouzards s'injectant du sang de jeunes étrangers déportés par bateau. Nous sommes en 1973 et c'est du jamais vu en France.
No exit. Alain Jessua is not a french director like the others, so listen. He could be mistaken as another
Yves Boisset
, but more sci-fi than political. Just a few movies released, which allows us to better appreciate the quality. During the awful 60's, where he works as an assistant director (like everybody then), he signs
Life upside down
and already stands out with
The killing game
in 1967, a cartoon comes to life from the pen of Jean-Pierre Cassel. It's
Shock treatment
six years later that really takes off. Alain Delon (
naked for you
) is the chief doctor of a rejuvenation clinic on an exotic island... Belle-Île-en-Mer! Annie Girardot plays his new patient who discovers the horrors of this place, an orgy of bourgeois couples injecting themsleves the blood of young foreigners deported by boat. We're in 1973 an it's unseen in France.
"La pub, c'est vraiment c'que j'préfère!"
Alain et Alain remettent le couvert en 77 avec
Armaguedon
, rejoints par le punk Jean Yanne. Louis Carrier, terroriste de l'ère des médias, part en croisade contre la société molle du divertissement. Pamphlet violent, critique de l'aliénation de la masse et du désir de reconnaissance à tout prix, et fin obligatoirement tragique. En 1979, Jessua emploie deux autres gros clients du cinoche français, avec et sans moustache, Depardieu et Lanoux dans
Les chiens
. Il sait toujours bien s'entourer et déniche un scénario efficace sur la thématique de l'insécurité. A la suite d'un viol, des habitants d'une cité, poussés par la folie du maître-chien Morel, s'équipent chacun leur tour de féroces chiens de garde. Jusqu'à ce que les bêtes finissent par contrôler les maîtres... Pas un polar lambda.
Alain & Alain team again in 77 with
Armaggedon
, joined by punk Jean Yanne. Louis Carrier, medias age terrorist, crusades against the soft society of entertainment. Violent satire, critic of the alienation of the mass and the desire of recognition at all costs, ends tragically, obviously. In 1979, Jessua hires two another big clients of french cinema, with and without moustache, Depardieu and Lanoux in
The dogs
. He still know how to team and picks up an efficient scenario once again on the theme of insecurity. Following a rape, citizens of a suburb, driven by the madness of dog-handler Morel, all one by one get fierce watchdogs. Until the beasts end up controlling the masters... Not your usual thriller.
Lethal gym session with Stéphane Audran
L'apothéose du Jessua style se situe en 82, en collaboration avec Patrick Dewaere (dernier film avant suicide).
Paradis pour tous
. Ici, on navigue en plein (ce que Philippe Murray baptisera plus tard)
Cordicopolis
, le royaume de l'hyperamabilité. Alain est toujours dans l'air du temps, avec sa manière intemporelle et surnaturelle de traiter des films de facture classique. Le flashage est une cure inventée par le Dr Valois (Jacques Dutronc) pour guérir les dépressifs. Alain Durieux (Dewaere) est le premier humain à la tester. Effet formidable. "On est bien" devient la phrase la plus usitée par cet ancien fonctionnaire morose. Ses collègues agressifs le voient d'un mauvais œil (sauf son patron qui tient l'employé servile parfait), et surtout sa femme qui ne reconnaît plus son mari (il n'y avait que Dewaere pour jouer si bien l'imbécile heureux). Le succès de l'expérience et son traitement médiatique précipite la populace dans le cabinet de Valois. Débordé, se rendant compte qu'un climat de guerre civile [soignés contre non-soignés] s'installe, le doc finira par se flasher lui-même. On est bien avec Alain, dans cette fable hautement sarcastique. (Ultime fantaisie de Jessua, un Eddy Mitchell en Frankenstein 90 en 84, gueule d'enfer! Puis plus rien... Allez, reviens Alain)
The apotheosis of the Jessua style lies in 82, in collaboration with Patrick Dewaere (last film before suicide).
Paradise for all
. Here, you're cruising in full (as Philip Murray will name later)
Cordicopolis
, the kingdom of hyperamiability. Alain is always in tune with the times, with its timeless and supernatural way of handling "classical" films. Flashing is a cure invented by Dr. Valois (Jacques Dutronc) to cure depressive people. Alain Durieux (Dewaere) is the first human being to test it. Tremendous effect. "On est bien" is the sentence the most used by the former morose civil servant. His aggressive colleagues see him with suspicion (except his boss who holds the perfect servile employee), and especially his wife who no longer recognizes her husband (there was only Dewaere to play the happy fool so well). The success of the experience and its media coverage rushed the mob rushed to the Valois' office. Overwhelmed, realizing that a climate of civil war [cured patients against non-cured] sets in, the doc will eventually flash himself. "On est bien" with Alain in this highly sarcastic story. (Ultimate Jessua's fantasy, Eddy Mitchell playing Frankenstein 90 in 84, what the hell! Then nothing... C'mon, come back Alain)
Midnight Express!