Par Patron, dimanche 13 novembre 2011 à 21:02 :: RAPPORTS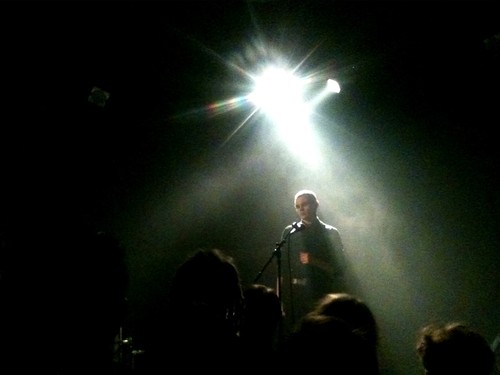 Lebanon Hanover, Supamolly, 12.11.
Alors que Molly Nilsson a perdu sa voix dans le Michigan, on tente d'en trouver une autre au Supamolly, un club musical en dédales dans Friedrischain. Pas de première partie pour nous.
Lebanon Hanover
est un gruppe garçon/fille de Newcastle qui s'est bougé à Berlin. Larissa au pays des merveilles. Le groupe est jeune, comme ses deux membres, mais les 80's leur manquent putain de beaucoup. Ils n'ont pas de véritable album mais les morceaux disséminés sur le www. sont chouettes. Ils ont un sombre sens de l'humour et un bon maniement de l'antique. Qui pourrait croire à un revival Tecktonik en 2011 ? Regarde le clip de
TOTALLY TOT
et vois le surtout en live. Ça t'excitera. Le bassiste William Maybelline est une sorte de Frank Darcel (Marquis de Sade) du jour, maquillage en plus. Froid et stoïque. A côté de ça, Larissa aux guitares ressemble à la Dana Scully de la cold wave. Vestimentairement parlant, ils sont au point. Musicalement, c'est une autre histoire! Leur post-post-punk est encore un peu trop bancal, pas très coordonné, les chansons n'ont pas de fins, c'est chacun pour soi sur scène. Les rythmiques sont bonnes. Même avec un mauvais timing ils réussissent à installer un bon malaise dans l'audience. Pas de DJ's pour nous (Terror wave ou non). C'était leur dernier concert à Berlin, ils retournent maintenant fièrement en Angleterre. Au revoir tristesse.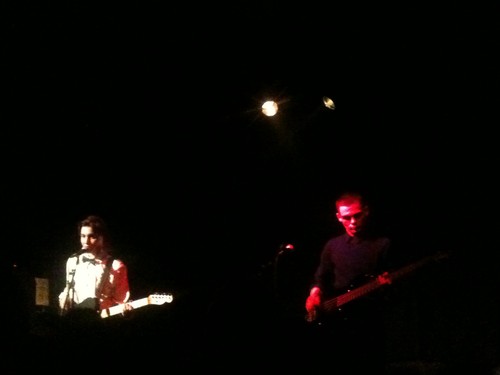 While in Michigan, Molly Nilsson lost her voice, we're trying to find another one at Supamolly, a mazing musiklub in Friedrischain. No first band for us. Lebanon Hanover is a newcastle boy & girl gruppe who moved to Berlin. Iceglass in Sunderland style. The band is young, like the members, but they miss the 80's fucking much. They don't have a proper album but the tracks scattered on the www are nice. They have a dark sense of humor and a good handling of vintage. Who could think of a Tecktonik revival in 2011 ? Just watch the
TOTALLY TOT
clip and see them live. You'll get excited. Bass player William Maybelline is kinda Frank Darcel (Marquis de Sade) of today, plus makeup. Cold and stoic. Beside, Larissa at the guitars looks like the Dana Scully of the cold wave. Sartorially speaking, they're to the point. Musically, it's another story! Their post-post-punk is still a bit wobbly, not very coordinated, the songs got no endings, it's everybody for himself on the stage. Beats are good. Even with a bad timing they succeed to catch the audience by setting the malaise. No DJ's for us (Terror wave or not). It was their last show in Berlin, they're now going back with a bang to the UK. Bye sadness.
LEBANON HANOVER - Die world
LEBANON HANOVER - Kunst
LEBANON HANOVER - Sand
Lebanon Hanover + La Fête Triste - Fuck 2011