Par Patron, lundi 30 janvier 2012 à 23:21 :: METAL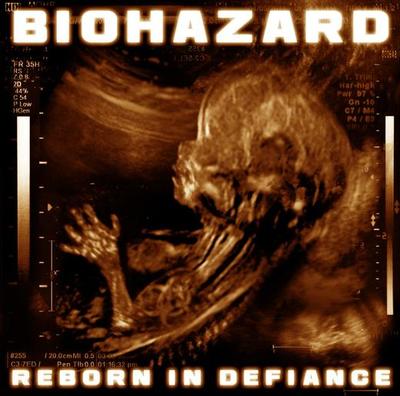 C'est le neuvième album de
BIOHAZARD
, je sais même pas pourquoi mais c'est comme ça. Pulvérisé par
Nuclear Blast
,
Reborn in defiance
met un terme à 7 années de silence. Wow. Evan Seinfeld trop occupé avec Tera Patrick (divorce), Billy Grazadei avec son
side-project merdique
, les deux membres restant partis rejoindre John Joseph dans Bloodclot (bah ouais), ça fait pas mal d'années que le groupe radioactif bat de l'aîle. Reformés fraichement après le split (on ne se demande pas pourquoi), l'album préparé depuis 3 ans est finalement présenté comme un hommage à Peter Steele, le grand. Dur de parler de renaissance pour un groupe dont l'apogée se situe entre 1990 et 1992. La pochette est très 1991 d'ailleurs. Même si ça vire souvent à la caricature, le style de cet album est étonnamment pas si mainstream (si on enlève l'infernal triplette rap/nu-metal du milieu du disque). La discipline urbaine n'est plus vraiment au rendez-vous, on s'en doute. Cependant, des morceaux comme "Vengeance is mine", "Countdown doom", "Come alive" ou "Skullcrusher" (ouais bien original) cultivent leur NYHC groove à cheveux longs bouclés perpétré depuis plus de 20 ans. Ça sert à rien de l'écouter hein. Chope plutôt leur
Demo 1988
, The Warriors part II !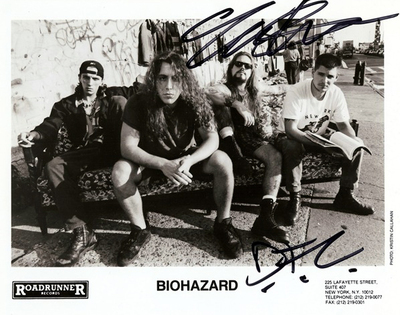 This is the ninth album from
BIOHAZARD
, I don't even know why but here we go. Powered by
Nuclear Blast
,
Reborn in defiance
ends seven years of silence. Wow. Evan Seinfeld too busy with Tera Patrick (divorce), Billy Graziadei too busy with his
shitty side project
, the two remaining members left to join John Joseph in Bloodclot (word), it's been quite a few years the radioactive band is floundering. Newly reunioned after the split (don't ask why), the album prepared for 3 years is finally presented as a tribute to Peter Steele, the big one. Hard to speak of rebirth for a group whose peak is between 1990 and 1992. The cover is so 1991 though. Even if it turns often to caricature, the style of this album is surprisingly not so mainstream (if we remove the terrible rap/nu-metal tracks from the middle of the record). Urban discipline isn't really there, no doubt about that. However, songs like "Vengeance is mine", "Countdown doom," "Come Alive" and "Skullcrusher" (yeah very original) perpetuate their long curly hair NYHC groove played for more than 20 years. No need to listen though. Get their
Demo 1988
, it's The Warriors part.2 !