WORLD MOVES (TOO) FAST
Par Patron, jeudi 1 mars 2012 à 18:01 :: HARDCORE :: #1180 :: rss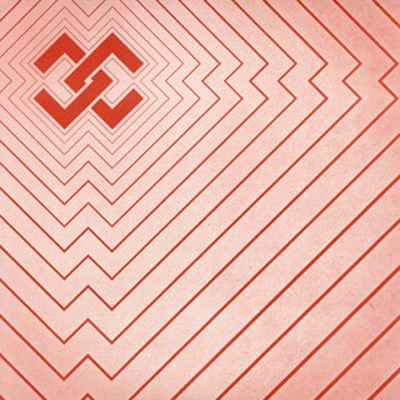 Il y a quelques années, le groupe
86 Mentality
de Washington rappelait que c'était cool d'être skin et de jouer du hardcore, comme dans les années 80.
COMMITMENT CREW
ont capté le style et l'ont reproduit dans le 52ème état américain, la Suède. Oi! supersonique. Le
5ème et dernier titre
de
Rock against cretins
(vous trouverez les crétins concernés dans l'insert) atteint 3 minutes et fait donc basculer la moyenne du EP au dessus de 8 minutes. Trop long les mecs.
A few years ago,
86 Mentality
, a band from Washington reminded us it was cool shave his hair and play hardcore punk, as in the 80s.
COMMITMENT CREW
have picked up this style and reproduced it in the 52nd U.S. state, Sweden. Supersonic Oi!. The
fifth and final song
Rock against cretins
(you will find the concerned morons in the insert) reaches 3 minutes and makes the length of the EP switch over 8 minutes. Too long guys.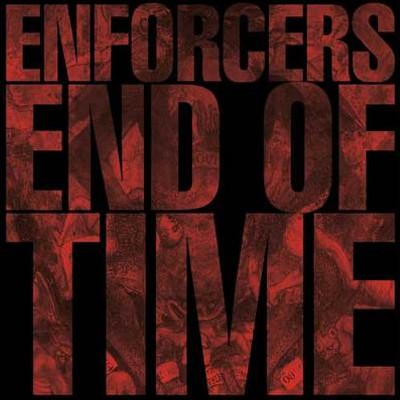 Putain,
ENFORCERS
viennent de Montréal, c'est donc le meilleur band français actuel.
End of time
est un disque de 6 pistes, aussi lourdes que 50 euros de courses chez Lidl. L'entame de
Out of time
est un coup de marteau sur la tête de Scott Vogel, pas de paix d'esprit, c'est la guerre de la danse. Les boys font même les malins avec un break en arpège. Grouve. La double guitare est super agressive, le chant est dosé, le batteur met bien la drum, ça 'pogne les nerfs' comme on dit là-bas.
All I am
est un clin d'œil à Breakdown, tandis que l'intro de
Black sheep
est un gros vol de Cro-Mags. Crossover... Y'a des bruits de cataclysme après chaque morceau, la fin est là. Je le remets jusqu'en 2013.
Damn,
ENFORCERS
are coming from Montreal, so this is the best current French band.
End of Time
is a 6 tracks record, as heavy as 50 euros shopping at Lidl. The introduction of
Out of time
is a hammer blown on the head of Scott Vogel, no peace of mind, it's war dance. The boys even try to outsmart with a break in arpeggio. Grouve. The dual guitar is super aggressive, singing is dosed, the drummer pulls it, that 'pogne les nerfs' as they say over there.
All I am
is a nod to Breakdown, while
Black sheep
beginning has been stolen from Cro-Mags. Crossover... There are rumors of disaster after each track, the end is near. I'll put it back until 2013.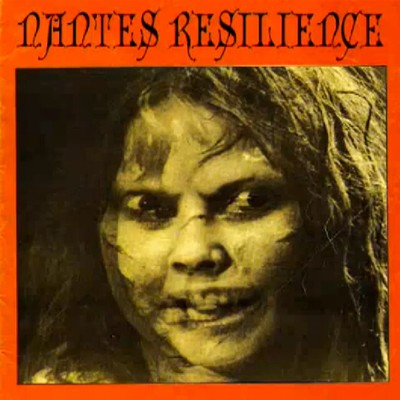 NANTES RESILIENCE
, que j'avais
interviewé sur fluoglacial
en 2009, sort du sommeil du soldat pour exhumer un 7" titulé
Live 2008
, extrait d'un des peu nombreux concerts que le groupe ait fait, à Nantes évidemment. Le 45 tours sort sur le label HardcoreTrooper et les morceaux s'appellent
Revenge is mine
et
Street depression
. Alors quoi? Darkside NYC et Ironside revisités par le Nantes Baston, va falloir bouger les gars!
NANTES RESILIENCE
, I had
interviewed on fluoglacial
in 2009, goes out from a long sleep of the soldier to exhume a 7inch titled
Live 2008
, extracted from one of the few shows the band has given, in Nantes, of course. The record is released by HardcoreTrooper ecords and the songs are called
Revenge is mine and Street depression
. So waht? Darkside NYC and Ironside are revisited by the Nantes Baston, gotta move guys !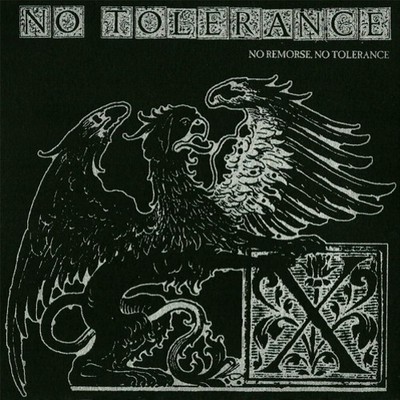 NO TOLERANCE
viennent de Boston et sont donc tout à fait crédibles dans le format présenté, un EP sauvage et brutal, torché en 7 minutes (
No remorse, no tolerance
). Le chanteur (Justin DeTore) a participé à tous les meilleurs groupes de ces 15 dernières années. Il chante également dans Mind Eraser, le groupe qui compose des déflagrations. Du coup ici, ça donne un mélange de hardcore straight edge et de powerviolence, avec des gants de chantier. J'imagine même pas les lyrics qui pourraient alimenter de longues colonnes dans les fanzines... non, les blogs actuels.
End of the liiine
!
NO TOLERANCE
come from Boston and so they're very credible in the presented format, a savage and brutal EP, flared in 7 minutes (
No remorse, no tolerance
). The singer (Justin DeTore) was a member of all the best bands of the past 15 years. He also sings in Mind Eraser, the band who composes deflagrations. So here, we have a fucking mixture of straight edge hardcore and powerviolence, combined with working gloves. I don't even want to imagine the lyrics content that could fuel long columns in fanzines... no, current blogs.
End of the liiine
!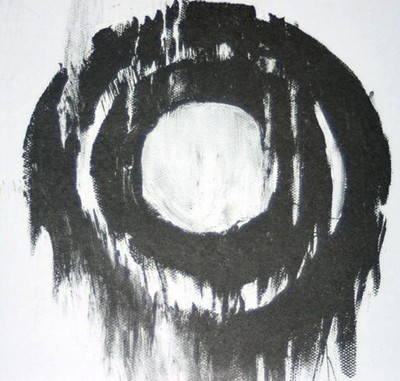 Encore ces chums de canadiens.
OMEGAS
qui avaient sorti leur premier EP sur
Powered records
(sniff) a transformé l'essai depuis longtemps. Après un album (Blasts of lunacy) l'année dernière, ils viennent de chier un EP appelé
NY Terminator
, un nom parfait et une pochette pourrie qui poursuit leur obsession pour les ronds. Y'a Dan Scheme de
Mad At The World
(le super label New Yorkais) dans ce groupe... on en apprend tous les jours. Vieille école, c'est
NY Thrash 1982
et Urban Waste 2012.
Nazi rules
!
Again those Canadian freaks.
OMEGAS
who had released their first EP on
Powered records
(sniff) converted their try since a long time. After one album (Blasts of lunacy) last year, they just shit an EP called
NY Terminator
, a perfect name and a rotten cover following their round obsession. There's Dan Scheme
Mad At The World
(the super NY label) in this band... we learn something every day. Old school, i's
NY Thrash 1982
VS. Urban Waste 2012 here.
Nazi rules
!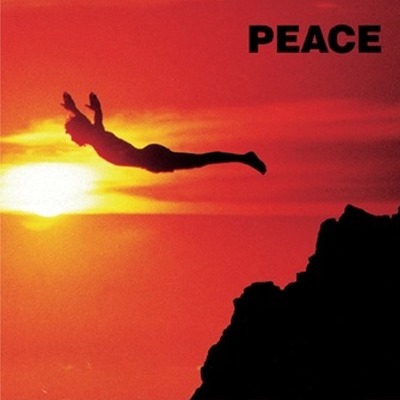 PEACE
est clairement bien meilleur que 1000 autres groupes youth crew en 2012. Ils sont investis dans le hardcore straight edge et dans le sportswear des années 90, j'espère, donc oublie ta console atari et prépare toi à trouver un abri car leur musique est munie de piles grosse énergie, qulequepart où la peur et les armes se rencontrent. 5 morceaux bons, propres, et pas trop fun. Des breaks rapides, des parties chantantes, dansantes, parfait pour un combat dans les 22 mètres. Regarde moi dans les yeux, je peux te dire sans mentir que ce groupe va faire tomber des plans à l'eau.
PEACE
is clearly better than a thousand other average youth crew bands in 2012. They're commited to straight edge hardcore and 90's sportswear, I hope, so forget your atari games and prepare you to find a shelter 'cause their music is full of high-energy battery, somewhere fear and weapons meet. 5 good, clean, not so fun tracks. Fastbreaks, singalongs, mosh parts, perfect for a ten yard fight. Look me in my eyes, I can say without lying this band will bring rain on the parade.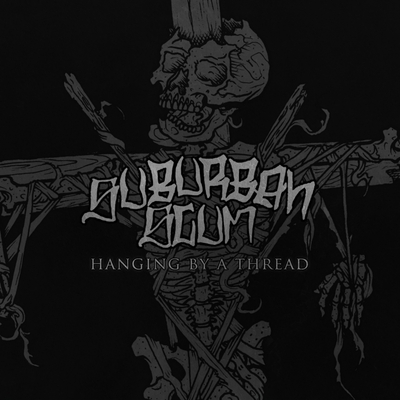 New Jersey dans la maison,
SUBURBAN SCUM
fournissent un hardcore metal assez extrême et hurlé, une échappatoire aux vices de la vie en quelque sorte. J'ai pas d'anecdote ou de secret de fabrication concernant
Hanging by a thread
, c'est juste un disque puissant, dansant, sans fioritures, et le riff de
Life vices
à 1:14 se passe de chronique alambiquée. Ça ressemble à All Out War, c'est donc bien. C'est l'heure d'excaver.
New Jersey in the house,
SUBURBAN SCUM
provide an extreme and yelled hardcore metal, an escape from the vices of life in some way. I have no story or secret recipe concerning
Hanging by a thread
, it's just a powerful record, danceable, without frills, and the
Life vices
riff at 1:14 doesn't need some over-subtle review. It sounds like All Out War, so it's good. Time to excavate.