1.2
Par Patron, mercredi 2 mai 2012 à 17:02 :: ELECTRO/TECHNO :: #1236 :: rss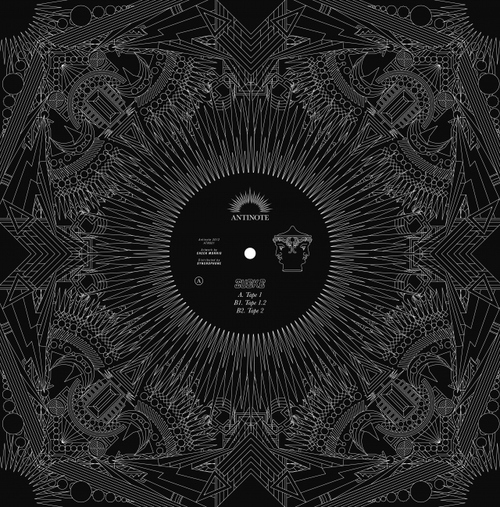 Les médias franciliens érudits se sont déjà enflammés sur cette sortie et pour une fois, ce n'était pas vain. Le maxi "
Tapes
" de
IUEKE
(oui, le même type que le
disquaire pointu
en ligne) est le résultat de triturages électroniques de Gwen Jamois, alors en vacances de Noël à Londres en 1991. "En cadeau on te laisse le studio". Ce fut une bonne idée. Les 3 pistes de la cassette originale sont surpuissantes, surtout quand on pense que les références existaient à peine à l'époque. Une sorte de techno industrielle produite par les fréquences HAARP dans les fonds marins. Ça ressemble aux débuts du genre dans les caveaux de Berlin et à une version blanche de Detroit. Brut. Le disque est sorti sur
ANTINOTE
, le nouveau label de Quentin Rollet, qui se destine à dépoussiérer de vieilles friandises dans cette lignée. Les poissons n'ont pas fini de remonter à la surface.
All streetwise french medias have already ignited this record and for once, it wasn't vain. The "
Tapes
" maxi from
IUEKE
(the same guy behind the
online specialized record store
of the same name) is the result of electronic beatings by Gwen Jamois, then spending Christmas holidays in London, in 1991. "As a gift, we leave you the studio." It was a good idea. The three tracks of the original tape are overpowering, especially when we consider that references barely existed at the time. A kind of industrial techno produceds by HAARP frequencies on the seabed. It reminds the beginnings of the genre in the Berlin vaults of Berlin or a white version of Detroit. Raw. The record was released on
ANTINOTE
, the new record label of Quentin Rollet, that plans to get old goodies of this type out of the closet. The fishes haven't finished to surface.