La fête est finie.
Par Patron, jeudi 21 juin 2012 à 18:11 :: SYNTH/COLD :: #1278 :: rss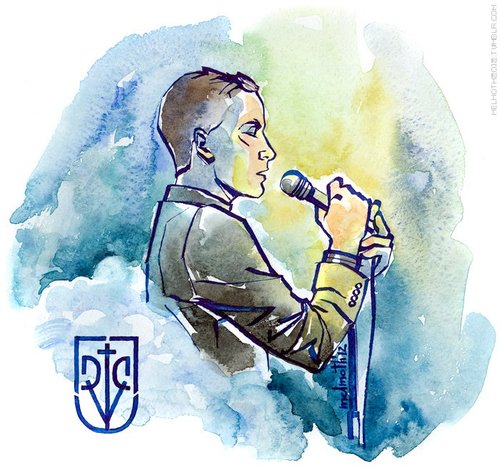 Maintenant qu'Étienne Daho préfère écrire des chansons pour Lou Doillon, son homologue sombre (baptisé jadis Étienne Dachau) a définitivement pris le pas sur le dandysme musical à la française. Quoi Sébastien Tellier ? (A voir ce que
Lescop
proposera sur son premier album). Après l'intro 3.0 "Exhibition", qui pouvait laisser pressentir un album "mature" de future-pop romantique dont certains extraits faisaient peur, "Invisible" rassure d'entrée. C'est toujours Geoffroy D. pour
DERNIÈRE VOLONTÉ
. La voix est au top du triste, les effets et les sonorités plus travaillés, les synthés toujours aussi clavecins, tandis que les quelques notes martiales qui ont survécu se fondent dans cette nouvelle pop musique en béton. Les lyrics fluets servent à porter la mélancolie dans des enchaînement assez fatals comme "La fête est finie", "Le chant de la pluie", "Le quai de la gare". D'ailleurs, la mélodie du "chant de la pluie" vient d'un autre morceau qui m'échappe, bordel (Martial Canterel?). S'il faisait froid dans la tête de Daniel Darc; il pleut dans le cœur de Geoffroy. "Un claquement de doigts" muni d'un beat façon Dipset laisse place au titre éponyme:
"Mon meilleur ennemi"
. Parfait. Ce troisième album de l'ère post-industrielle donnera envie à tout le monde de s'engager dans la légion et de devenir homosexuel (ou au moins d'aller faire un tour au musée d'histoire naturelle).
DERNIÈRE VOLONTÉ - Le chant de la pluie
Now, Etienne Daho prefers to write songs for Lou Doillon, his dark counterpart (formerly known as Etienne Dachau) has definitely taken over the French dandyism music. Sebastien Tellier what ? (Just wait for the
Lescop
full-length). After the fat electronic intro, "Exhibition", which could let foresee a "mature" romantic future-pop album some extracts were startled, but "Invisible" reassures us. It's always Geoffroy D. for
DERNIÈRE VOLONTÉ
. The voice is always on top, sounds and effects are tighter than before, synths still look like harpsichords, while the few martial notes that have survived are melted in this new concrete pop music. The lyrics are slender to bear the melancholy in rather fatal sequences like "La fête est finie", "Le chant de la pluie", "Le quai de la gare". Moreover, the "chant de la pluie" melody comes from another song that I can't recall, damn. It was freezing in the Daniel Darc's head, now it's raining in the Geoffroy's heart. "Un claquement de doigts" with a beat so Dipset gives way to the title track:
"Mon meilleur ennemi"
. Perfect. This third album from DV's post-industrial era will tempt everyone to engage in the legion and become homosexual (or at least to visit the natural history museum).