Hard Gaze
Par Patron, lundi 2 juillet 2012 à 13:01 :: ELECTRO/TECHNO :: #1272 :: rss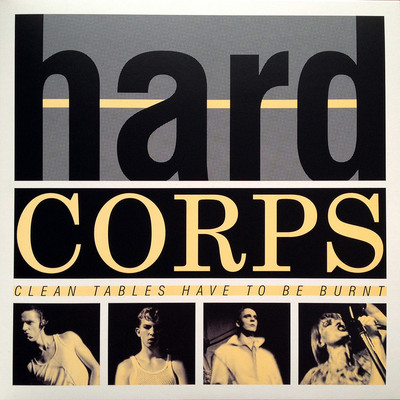 "Ils sonnent comme Sparks avec un accent français; c'est détestable." ou encore "Une poule parle pour ne rien dire dans un français de touriste par dessus des sortes de bips mièvres qui étaient tendance à l'époque du revival punk. Une insulte pour quiconque aurait le malheur de l'écouter." Voilà comment le maxi "Je suis passée" de
HARD CORPS
fut accueilli par la presse anglaise en 85. Faut dire que revendiquer un champ d'influences s'étendant de Mozart à Kraftwerk c'était tendre le bâton pour se faire battre. Sur cette rétrospective,
"Clean tables have to be burnt"
, les 6 morceaux font 7 minutes chaque, ouch. La version "Clean tables" est cool, et "Dirty" fut #1 indie. Les 2 branchés de Brixton, accompagnés de Raégine la fraançaise, ont quand même eu l'opportunité de chauffer la salle pendant les tournées de Cure et Depeche Mode, puis s'en sont allés après un deal chez Polydor. Normal.
"They sound like Sparks with a French accent; a loathsome proposition." or "Some tart waffling in day-trip Francaise over the sort of twee microchip blllleeeeps that were considered trendy in the wake of the punk upsurge. An insult to anyone who has the misfortune to hear it." That's how the british press received
HARD CORPS
's "Je suis passée" in 1985. Claiming that their field of influences was ranging from Mozart to Kraftwerk was a good opportunity of bashing. This 6 piece retrospective,
"Clean tables have to be burnt"
, is 35 minutes long, ouch. The "Clean tables" version is cool, and "Dirty" was indie #1. The two trendy Brixton blokes, accompanied by Régine the fwançaise, still had the opportunity to open for The Cure and Depeche Mode during their tours, and then went out after a deal with Polydor. Usual.
Minimal Wave
a aussi sorti un nouveau LP de
IN AETERNAM VALE
, décidément leurs frenchies préférés. "Dust under brightness" et la grosse réverb' qui va avec. Prochainement dans leurs bacs, les "Teenage tapes" de
FELIX KUBIN
, autrement dit ses enregistrements allemands à l'époque de son groupe Die Egozentrischen, quand il avait... 15 ans.
Minimal Wave
also put out a new LP by
IN AETERNAM VALE
, definitively their fav' frenchies. "Dust under brightness" and the fat réverb' that goes with. Next in their catalog, the "Teenage tapes" of
FELIX KUBIN
, ie his german recordings with his old band Die Egozentrischen, when he was... 15 years old.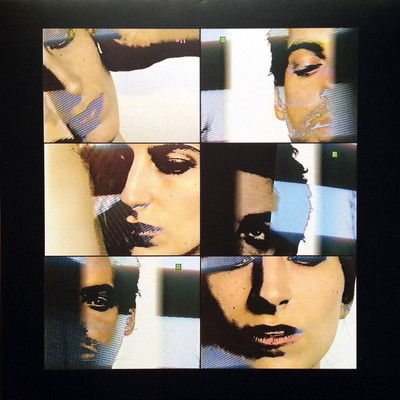 Cititrax est une sous-maison de Minimal Wave qui a décidé depuis 2008 de se lancer dans la production de musiques modernes, ou plutôt de moderniser les musiques anciennes. Des sorties plus orientées fête et bain moussant que "panne de radiateur". Pour preuve, le 001 était une réédition (oui, encore) du "Dance party" de Z-Factor. Si ça c'est pas festif. On se serait bien passé de l'essai disco Sylvi Foster, mais moins des bizarres Medio Mutante et des remix de Futurisk, synthpunk au top. Putain, tout ça pour en venir à
INNERGAZE
, le groupe de Jason Letkiewicz, qui n'est pas de la famille des Beastie Boys, mais qui possède plus de projets créatifs que MCA possédait de métastases. Dans ses 2 actes les plus concrets, il joue à Klaus Schulze (Alan Hurst) et participe au revival acid house galopant (Steve Summers). Sur ce deuxième album, "
Mutual dreaming
", toujours en duo avec cette femme nommée Aurora Halal (pas de mauvais jeu de mots), le couple nous propose 8 titres d'electro froide, façon Meredith Vickers, qui sait bien camoufler ses influences. Un message d'espoir qui prouve une fois de plus qu'ensemble, tout devient possible.
Cititrax is a MW sub-house since 2008 that decided to produce modern music, or rather to modernize ancient sounds. More bubble bath and party oriented than "radiator breakdowns". One proof, the 001 was a re-issue (yes, again) of Z-Factor's "Dance party" Z-Factor. You can't make more festive. We could have easily got rid of Sylvi Foster's disco, but glad about the weird Medio Mutante record and synthpunks Futurisk remixes. Damn, all that chitchat to come to the
INNERGAZE
point, Jason Letkiewicz duo, which is not a family member of the Beastie Boys, but who got more creative projects that MCA got metastases. The most concrete ones are Alan Hurst (Klaus Schulze spoof) and Steve Summers, where he participates to the roaring acid house revival. On this second album, "
Mutual Dreaming
", always with this woman named Aurora Halal (no bad pun intended), the couple offers us eight cold tracks in a Meredith Vickers style, that succeeds in hiding its influences. A message of hope that proves once again that together, anything becomes possible.