There will be quiet ... after the storm
Par Patron, mercredi 11 janvier 2012 à 13:09 :: METAL :: #1142 :: rss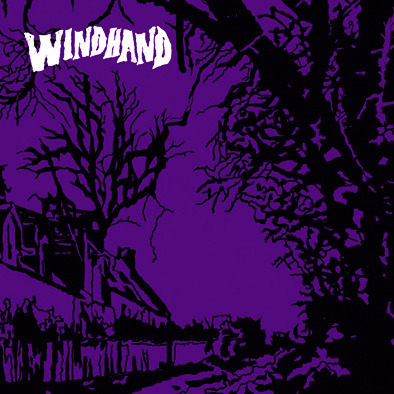 Si Curtis LaForche avait un disque à sauver pour écouter dans son abri anti-tornade, ce serait celui de
WINDHAND
. La scène doom est surchargée de groupes inutiles, c'est vrai. D'ailleurs, on peut même se demander si ceux qui sont arrivés après TROUBLE et PENTAGRAM ont une raison de vivre. Peu importe. Avec un violet très BLACK SABBATH et un son très ELECTRIC WIZARD les 5 chevelus de Virginie font oublier qu'un double cyclone arrive. Le soleil d'hiver est éteint et WH invoque la lune pour faire crier la masse des loups. 40 minutes de souffrance latente. Allume un cierge noir et attends patiemment le dajjal au fond de ton trou.
If Curtis Laforche had a record to save to listen in his anti-tornado shelter, it would be that
WINDHAND
album. The doom scene is overloaded with bands, OK with that. In fact, we could even wonder if those who came after TROUBLE and PENTAGRAM have a reason to live. Who cares. With a very BLACK SABBATH violet and a very ELECTRIC WIZARD sounds the 5 hairy dudes from Virginia 5 make us forget that a double
storm is coming
. The winter sun is off and WH summons the moon to heap wolves. 40 minutes of latent suffering. Light your black candles and wait patiently for the dajjal in the bottom of your hole.