Par ROD, jeudi 1 mars 2012 à 18:01 :: HARDCORE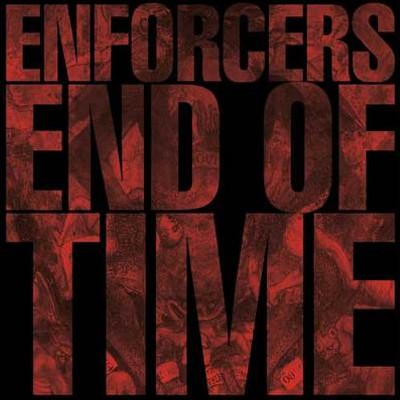 Putain,
ENFORCERS
viennent de Montréal, c'est donc le meilleur band français actuel.
End of time
est un disque de 6 pistes, aussi lourdes que 50 euros de courses chez Lidl. L'entame de
Out of time
est un coup de marteau sur la tête de Scott Vogel, pas de paix d'esprit, c'est la guerre de la danse. Les boys font même les malins avec un break en arpège. Grouve. La double guitare est super agressive, le chant est dosé, le batteur met bien la drum, ça 'pogne les nerfs' comme on dit là-bas.
All I am
est un clin d'œil à Breakdown, tandis que l'intro de
Black sheep
est un gros vol de Cro-Mags. Crossover... Y'a des bruits de cataclysme après chaque morceau, la fin est là. Je le remets jusqu'en 2013.
Damn,
ENFORCERS
are coming from Montreal, so this is the best current French band.
End of Time
is a 6 tracks record, as heavy as 50 euros shopping at Lidl. The introduction of
Out of time
is a hammer blown on the head of Scott Vogel, no peace of mind, it's war dance. The boys even try to outsmart with a break in arpeggio. Grouve. The dual guitar is super aggressive, singing is dosed, the drummer pulls it, that 'pogne les nerfs' as they say over there.
All I am
is a nod to Breakdown, while
Black sheep
beginning has been stolen from Cro-Mags. Crossover... There are rumors of disaster after each track, the end is near. I'll put it back until 2013.