HAL HARTLEY : Everything is Possible (1988-1998)
Par Patron, lundi 16 janvier 2012 à 14:32 :: FILMS 90's :: #1141 :: rss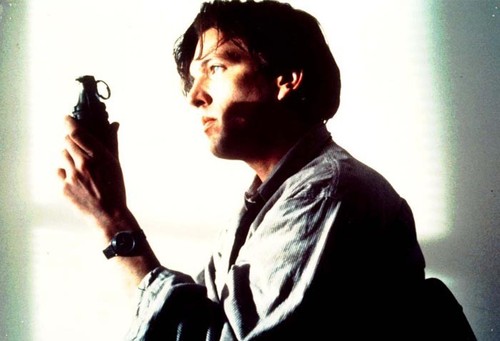 Hal Hartley est un pur produit de Long Island, NY. N'ayant pas eu accès à l'intelligentsia artistique du centre de la ville, il va créer son cinéma indépendant tout seul, fidèle à la même équipe d'acteurs pendant près d'une décennie. Après des courts-métrages post-diplôme, le SUNY (Purchase college) est bien fini. Wesley Snipes qui fréquente aussi ses murs accédera bientôt au statut de noir cool et de la meilleure coupe de cheveux des 90's, Hal lui, prépare son premier film :
THE UNBELIEVABLE TRUTH
. C'est l'année
1989
et le premier vrai rôle de Robert John Burke qu'on retrouvera plus tard dans SIMPLE MEN et FLIRT (et aussi dans Robocop 3, c'est pas ce qui nous intéresse ici mais quand même). Il interprète le parfait héros ténébreux et flegmatique qui sera la figure de proue de chaque film de Hartley. Mais attention, le héros de Hartley est anti.
Hal Hartley is a pure product of Long Island, NY. With no access to the arty intelligentsia of the city center, he created his own independent movies himself, true to the same team of actors for nearly a decade. After some post-diploma short films, the SUNY (Purchase College) is over. Wesley Snipes who's also chilling in the same school will accede to the black coolness and win the best haircut of the 90's, meanwhile, Hal is preparing his first film:
THE UNBELIEVABLE TRUTH
. This is the year
1989
and the first real role of Robert John Burke that we meet again later in SIMPLE MEN and FLIRT (also in Robocop 3, but it's none of our business here, but still). Robie plays the perfect dark hero with flegm which will be the figurehead of each Hartley's movie. But beware, the hero of Hartley is anti.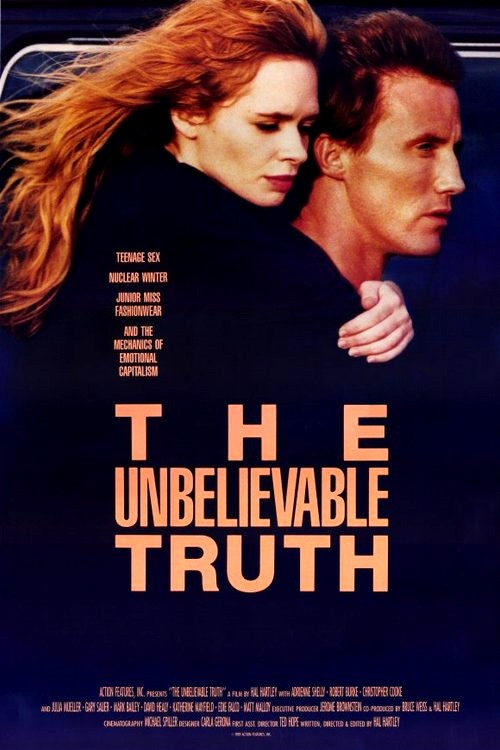 Adrienne Shelly qu'on retrouvera aussi l'année d'après dans TRUST n'est pas la fille du boulanger mais celle du garagiste. Josh Hutton joué par Burke est un ex-tôlard qui revient dans sa ville natale. Soupçonné d'avoir commis les pires crimes, la vérité éclatera progressivement et fera taire les langues médisantes. Embauché comme mécano, il tombe évidemment amoureux de la fille du patron, ça va foutre une merde pas possible. Hartley, cœur à vif, révolutionne la romance américaine et le dialogue. Les personnages se répondent du tac au tac, se répètent, se retrouvent souvent au même endroit, sans se regarder, la répartie est infinie, et ça n'a rien à voir avec du Woody Allen, la pudeur et la distance restent intactes. À la fin, on ne sait jamais trop qui y gagne. Si, le spectateur.
Adrienne Shelly we will also find the following year in TRUST is not the baker's daughter but the mechanic one. Josh Hutton played by Burke is a former convict who returns to his hometown. Suspected of having committed horrible crimes, the truth will progressively triumph over the ​​slandererous tongues. He's hired as a mechanic and falls in love with the boss' daughter, of course, it'll fuck up the situation. Hartley, high heartbreak, revolutionizes the American romance and the dialogue. The characters answer back tit for tat, repeat themselves, often converge in the same place, without looking, the nimbleness is infinite, and it has nothing to do with Woody Allen kinda stuff, decency and distance remain intact. In the end, we never know who wins. Oh yes, the viewer.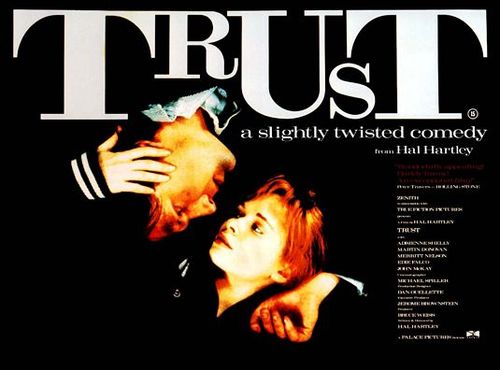 En
1990
, Hartley enchaîne avec sans doute son film le plus réussi:
TRUST
. On verse toujours dans le drame comique, Shelly, enceinte à 16 ans l'annonce à ses parents, son père meurt d'une attaque au même moment sur le carrelage de la cuisine. C'est parti. Jetée par le fautif, jetée dehors par la mère, Maria va faire la connaissance de Matthew Slaughter (Martin Donovan, l'acteur fétiche de Hal Hartley qui va briller dans 6 de ses films). Après la mécanique, l'antihéros est maintenant spécialiste en électronique. Le demi-génie, martyrisé par son père maniaque qui le force à briquer la salle de bain toutes les heures, l'ado étouffée par sa mère manipulatrice vont faire équipe pour évoluer dans cet environnement hostile. C'est l'amour contre l'absurdité de la société. Les répliques fusent dans tous les sens sur une bande son entêtante, une fin suspendue, le style Hartley est désormais déposé.
"Mes personnages se débattent pour communiquer dans cette société envahie par les communications."
"My characters are struggling to communicate in a society overrun by the communications."
In
1990
, Hartley continues with his probably most successful movie:
TRUST
. Always poured in the comic drama, Shelly, pregnant at 16 announces it to her parents, her father sudden died of a stroke on the kitchen floor. Let's go. Dumped by the culprit, dumped out by the mother, Maria's going to meet Matthew Slaughter (Martin Donovan, Hal Hartley's fetish actor that will shine in six of his films). After the mechanical, the antihero is now specialized in electronics. The half-genius, tormented by his maniac father who forced him to scrub the bathroom every hour, the teen, suffocated by her mother's manipulations will team up to progress in this hostile environment. It is love against the absurdity of society. Replies spurt in all directions over a heady soundtrack, a suspended ending, the Hartley style is now a trademark.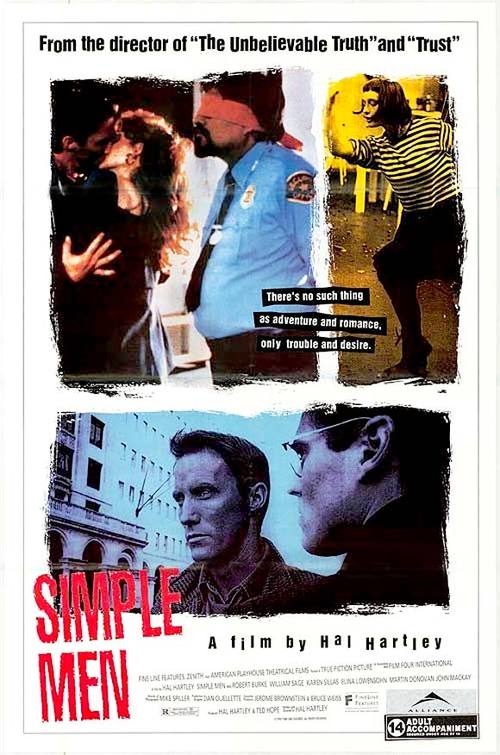 Les trois potes et tronches habituelles: Burke, Donovan et Bill Sage font maintenant équipe dans le casting en or de
SIMPLE MEN
,
1992
. Hartley se dépasse encore niveau scénario avec un road movie jetant deux frères dans l'ennui du Long Island à la recherche de leur père révolutionnaire. Bill McCabe est un mysogine convaincu depuis qu'il s'est fait doubler par la femme qu'il aimait lors d'un casse, il rêve de vengeance auprès de la gente féminine. Dennis, le cadet, est un introverti, il tombe amoureux d'Elina Löwensohn, une épileptique rencontrée à la station service, poursuivie par un ex-mari dangereux, qui se révèle être la gonzesse de leur père (!). Tout ce beau monde est surveillé de près par un jeune shérif dépressif depuis qu'il s'est fait larguer. Les liens familiaux croisent le fer avec le rapport houleux entre sexes opposés. Un bordel bien joyeux.
The three mates and usual faces: Burke, Donovan and Bill Sage team up now in the gold casting of
SINGLE MEN
,
1992
. Hartley gains level again with this scenario of a road movie that throw two brothers in the boredom of Long Island in search of their father, a revolutionary. Bill McCabe is a convinced misogynist since he has been overtaken by the woman he loved during a heist, he dreams of revenge from the female gender. Dennis, the youngest is an introvert, he falls in love with Elina Löwensohn, an epileptic met at the gas station, pursued by a dangerous ex-husband, who is actually the chick of their father (!). All these people are closely watched by a young sheriff completely depressed since he's been dumped. Family ties cross swords with the stormy relationship between opposite sex. A very merry hell.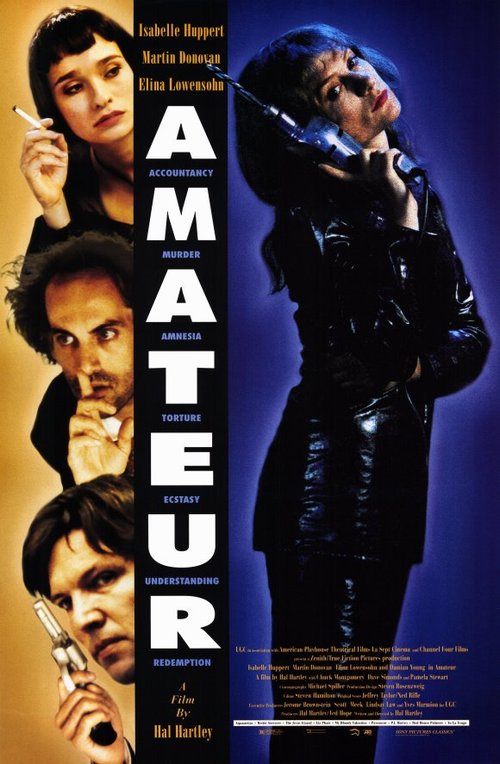 En
1993
, Hartley réalise
SURVIVING DESIRE
, une romance prof-élève bien moins flamboyante que ses précédentes pièces, malgré l'omniprésence de Martin Donovan (qui aurait très bien pu jouer dans
NAKED
de Mike Leigh tiens, ce puissant drame urbain anglais). Ce moyen moyen-métrage est suivi par trois courts qui permettent à Hal de tester James Urbaniak, son nouveau jouet.
AMATEUR
(
1994
) est la réappropriation du thriller criminel par le cinéaste, une course contre l'amnésie de Thomas Ludens, pornographe, à la quête de sa femme, Sophia, actrice X, elle même traquée par le taré Damian Young. Isabelle Huppert l'alliée, ancienne sœur en tenue de cuir, peut se vanter d'être la première actrice en dehors du cercle à avoir jouer chez Hal. Une recherche tordue et mouvementée du temps perdu à base de jeunes filles déflorées.
In
1993
, Hartley directs
SURVIVING DESIRE
, a teacher-student romance far less flamboyant than his earlier pieces, despite the ubiquity of Martin Donovan (who might well have played in Mike Leigh's
NAKED
, the powerful english urban drama). This middle medium-lenght film is followed by three shorts that allow Hal to test James Urbaniak, his new toy.
AMATEUR
(
1994
) is the reappropriation of the crime thriller by the director, a race against the amnesia of Thomas Ludens, pornographer, in search of his wife, Sophia, X actress, hunted herself by the degenerate Damian Young. Isabelle Huppert the ally, former nun dressed in leather, can boast of being the first actress outside the Hal circle to be playing in a Hartley movie. An hectic search of lost time, deflowered girls-based.
FLIRT
sort en
1995
et tombe dans le cliché typique du drame arty romantique des années 90. Une même scène tournée par des couples différents à New York, Berlin (avec un couple gay, ben oui) et Tokyo. OK si tu veux voir le métro aérien passer à Kreuzberg, sinon à oublier.
HENRY FOOL
(
1997
) est le dernier film valable d'Hal Hartley malgré une intellectualisation toujours plus forte. La rencontre entre un écrivain clochard mytho (Thomas Jay Ryan) et un éboueur autiste (Urbaniak). L'un va apprendre les rudiments de la poésie à l'autre, monnayant une place pour coucher dans la cave. La mère au bout du rouleau et la sœur nympho de Simon Grimm vont ponctuer son accession inimaginée à la célébrité. C'est encore le même schéma et ça marche, des individus non conçus pour la société, rattrapés par un passé criminel ou non, s'allient pour tenter de s'extirper du carcan ambiant.
"An honest man is always in trouble"
FLIRT
was released in
1995
and falls deep into the typical cliché of the romantic arty drama of the 90s. The same scene shot with different couples in New York, Berlin (with a gay couple, of course) and Tokyo. OK if you want to see the skytrain flowing in Kreuzberg, if not, forget about it.
HENRY FOOL
(
1997
) is the latest valid film of Hal Hartley despite a stronger and stronger increasing intellectualization. The meeting between a mythomaniac bum writer (Thomas Jay Ryan) and an autist garbage man (Urbaniak). One will teach the basics of poetry to the other, in return of a place to crash in the cellar. The exhausted mother and the nymphomaniac sister of the rookie poet will punctuate his unimagined accession to fame. It's still the same plan and it works, individuals unfit for society, caught up with a criminal past or not, come together to try to extricate themselves from the ambiant constraints. "An honest man Is always in trouble"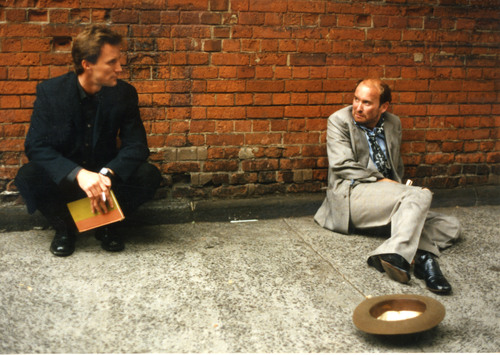 Nous sommes en
1998
, la France va bientôt gagner la coupe du monde et Hal Hartley signe le point final de sa virtuose décennie avec le ridicule
THE BOOK OF LIFE
. Dans le cadre d'une série de films sur l'apocalypse, HH réunit Jésus (Martin Donovan) et Marie Madeleine (P.J. Harvey) face à Satan (TJ Ryan) dans une fantaisie sans queue ni tête où les protagonistes s'échangent un ordi portable permettant d'ouvrir les sept sceaux et accomplir la destinée du monde. Neo nouvelle vague mon cul. C'est bien les années 2000 et le livre de la vie se referme sur Hal Hartley qui en phase avec son époque produit des comédies fantastiques plus anecdotiques (NO SUCH THING, THE GIRL FROM MONDAY). Reste 5 classiques à l'épreuve du temps, du type intelligent qui plait autant aux filles qu'aux garçons.
We enter
1998
, France will soon win the World Cup and Hal Hartley sign the final point of his virtuoso decade with the ridiculous
BOOK OF LIFE
. As part of a series of movies about Apocalypse, HH gathers Jesus (Martin Donovan) and Maria Magdalena (PJ Harvey) against Satan (TJ Ryan) in a cock-and-bull fantasy where the protagonists are handing a laptop allowing to open the seven seals and fulfill the destiny of the world. Neo new wave my ass. It's the new millenium and the book of life is closing in on Hal Hartley who, in tune with the times, produces anecdotal fantastic comedies (NO SUCH THING, THE GIRL FROM MONDAY). Anyway, 5 classics stand the test of time, enough clever to appeal both girls and boys.
POSSIBLE FILMS