Machine Age Voodoo
Par ROD, samedi 24 mars 2012 à 15:21 :: SYNTH/COLD :: #1208 :: rss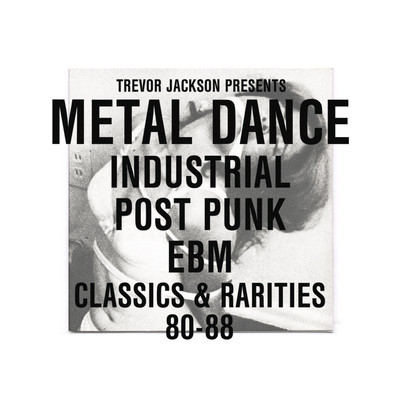 "C'est l'heure de la danse de fer, préparez vous à être broyés par les roues de l'industrie ! Les pas sinistres résonnent dans la nuit, réveillez-vous! C'est une invitation au rite, de la musique militaire à la House de Chicago, ça recommence, à chaque fois. De la soul avec des machines? De la pop dissonnante? Punk funk? Cyber trance? Sexe violence? Peu importe, la beauté est dans l'horreur et le bruit. La danse est un acte de guerre, ne loupe pas ton rendez-vous avec le futur. Raté? Evidemment. Tu n'as plus qu'à courir sur place et aveuglément comme Gabi Delgado en 1981." C'est pas moi qui le dis, j'adapte le livret de la compilation '
Metal Dance
' de
Trevor Jackson
, à peine sortie et déjà classique. Mais qui est Trevor Jackson? C'est un type qui a sa tronche sur des t-shirts Stone Island, ouais! Plus connu pour ses talents de communiquant (designer chez Soulwax) et de patron (feu Output records) que de musicien (Playgroup...), ça fait des années que Trevor s'évertue à jouer du post-punk tribal, du disco glacial, de l'EBM et du funk industriel en soirée. Et c'est maintenant que tout le monde le fait qu'il décide de sortir sa comp. Pas con.
Sur le CD1 il faut garder le premier single de
Pete Shelley
(des Buzzcocks), Witness the change, une échappée synth-pop en solitaire, le monstrueux
Dream games
de
Shock
, le
Bus
saccagé des
Executive Slacks
, l'edit aciiide du
Control i'm here
de
Nitzerr Ebb
(!), le
Brothers
jovial de
DAF
, et bien sûr les sirènes martiales de
SPK
, qui donne son nom à cet album. Le reste est plutôt rareté (dub, edit, version) que classique. Pour le CD2, quelques noms pour vous aiguiller:
Alien Sex Fiend
,
Mark Stewart
,
Yello
,
Severed Heads
,
John Carpenter
... Rien qu'ça.
"It's metal dance time, prepare to be crushed by the wheels of industry! Sinister steps echo through the night, wake up! This is an invitation to the rite, from military music to Chicago House, here we go again, each every time. Soul with machines? Distorted pop? Punk funk? Cyber ​​trance? Sex violence? Anyway, beauty is in the horror and noise. Dance is an act of war, don't miss your rendez-vous with future. Missed? Of course. You're forced to run blindly for nowhere like Gabi Delgado in 1981." It's not me saying, I just adapted the booklet from
Trevor Jackson
's
Metal Dance
, just released and already a classic. But who is Trevor Jackson? A guy who has his face on Stone Island tees, yeah! Best known for his communicating (designer with Soulwax) and heading skills (ex Output records) than for his musician agility (Playgroup...), it's been years that Trevor strives to bring tribal post-punk, ice disco, EBM and industrial funk on the wardance floors. And now everyone does it, he decided to put out his own compilation. Clever.
On CD1 you must keep the first
Pete Shelley
's single (from the Buzzcocks),
Witness the change
, a breakaway solo synth-pop, the monstrous
Dream games
of
Shock
, the ransacked
Bus
from
Executive Slacks
, the aciiid edit of
Nitzer Ebb
's
Control I'm here
(!), the hearty
DAF
's
Brothers
jovial, and of course the martial hooters of
SPK
who gave its name to this album. The rest is rather rarity (dub, edit, version) than classic. For CD2, a few names to pin you:
Alien Sex Fiend
,
Mark Stewart
,
Yello
,
Severed Heads
,
John Carpenter
... Nothing less.