Brûlures d'Estomac
Par Patron, mardi 10 avril 2012 à 17:08 :: METAL :: #1217 :: rss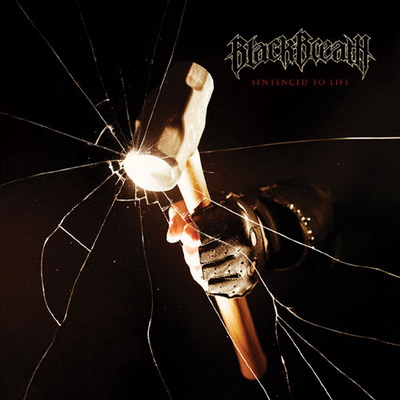 BLACK BREATH - Sentenced to life
(Southern Lord)
Les gars de Seattle sont condamnés à vivre et à produire une musique toujours plus dégueulasse et désagréable. Des titres de morceaux (
Feast of the damned
,
Endless corspe
,
Mother Abyss
,
Doomed
...) aux riffs en passant par la couvrante SM et la voix d'un type qui n'en a rien à branler de la bar mitzvah de Drake ou des aventures sexuelles de Prodigy (Mobb Deep) en prison, ça tue à loisir. Les groupes de death metal rock'n'roll suédois sont maintenant dépassés.
TOP 3:
The flame
, Home of the grave, Of flesh.
The guys from Seattle are condemned to live and make even more disgusting and rude music. From song titles (
Feast of the damned
,
Endless corspe
,
Mother Abyss
,
Doomed
...) to guitar riffs through the Sadomasochistic cover and the voice of a guy who doesn't give a fuck about the Drake's bar mitzvah or about the sexual adventures of Prodigy (Mobb Deep) in jail, it kills at will. Swedish death metal rock'n'roll bands are now obsolete.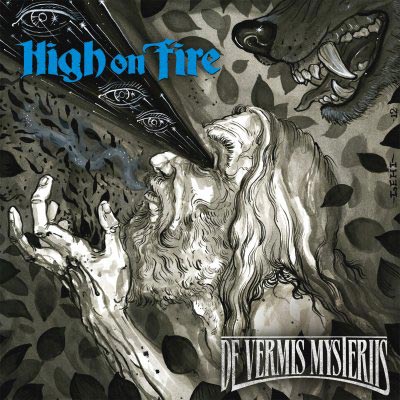 HIGH ON FIRE - De vermis mysteriis
(eOne)
Matt Pike continue sa course avec un nouvel album pour rappeler que le gibet reconnaît toujours sa proie. Ça sort toujours sur cette espèce de plateforme publicitaire transgenres. Dans ce disque, le trio d'Oakland nous prouve encore son érudition, en foutant à la sauce doom metal les mythes orientaux et la naissance de Rome, et en intitulant leur album du nom d'un fameux grimoire sorti des hallucinations de Lovecraft. Est-ce que les fans suivent? Ces type ont inventé le doom intello, mais inévitablement chiant au bout d'un moment.
TOP3:
Romulus and Remus
, Bloody knuckles, Madness of an architect.
Matt Pike follows his path with a new album to remember that the gallow still recognizes its prey. It's still released on this kind of transmusical advertising platform. On this record, the Oakland trio proves again his erudition, while mixing doom metal with oriental myths and the birth of Rome, and by naming their album after a famous grimoire came out from the Lovecraft's hallucinations. Will fans follow? These dudes gave birth to doom mental, but inevitably boring after a while.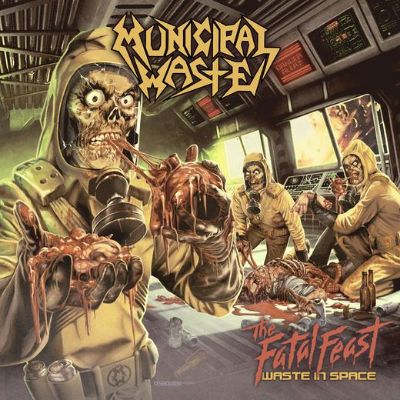 MUNICIPAL WASTE - The fatal feast
(Nuclear Blast)
Voilà 10 ans que les gai lurons de Richmond font tourner des circle pits autour de la planète. Ce que la chaine humaine des hippies n'a jamais fait, les rois du thrash punk ironique l'ont réussi. L'intro de ce nouvel album fait penser à la scène de Maniac (sonorisée par Jay Chattaway) où Joe Spinell monte sur le capot d'une caisse pour éclater la tête au fusil de chasse d'un type assis au volant avec sa meuf. Lustig quoi. Sinon, excepté DRI, ça ressemble à la fois où Slayer avait repris tous les classiques hardcore/punk sur un de leurs meilleurs albums, en version gentille. Mais y'a trop de titres.
TOP3:
Death tax,
The fatal feast
, New dead masters.
Ten years now the joyful fellows of Richmond are provoking circle pits all around the globe. A thing the human chain of hippies never did, the kings of ironic thrash punk succeed in. The intro to this new album is reminiscent of the Maniac scene (sound by Jay Chattaway) where Joe Spinell climbed on a car to pop the head with a shotgun of a guy sitting behind the wheel with his sweetheart. Fucking Lustig. Otherwise, exit DRI, it looks like the time when Slayer covered all the hardcore/punk classics on one of their best albums, gentle version. Anyway there's too many tracks.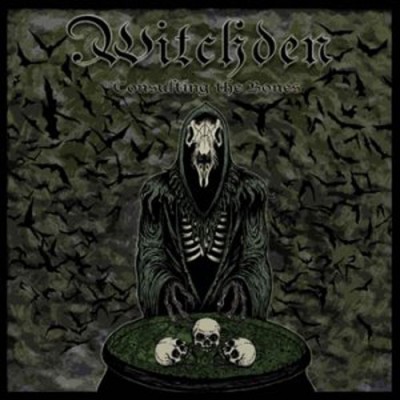 WITCHDEN - Consulting the bones
(DIY)
Je comptais dire un mot sur "Faith" de RISE AND FALL (avec son horrible
pochette
, conçu pour serrer des meufs, ou promouvoir un concours de châteaux de sables, je ne sais pas) mais en fin de compte, c'est déjà assez relou à écouter pour en plus devoir en parler. L'inverse de ce groupe de Minneapolis, qui a retroussé ses manches, et mis en ligne son album tout seul. Trois quarts d'heure de sludge à chantonner sous une pluie de boue en cassant des disques de Replacements et Husker Dü.
TOP3:
If hell awaits
, Sharp sword, Words of man.
I intended to say something about Rise And Fall's "Faith" (with its terrible
cover
designed to get pussies, or promote a sand castle contest, I don't know) but finally, it's enough painful to listen to have to talk more about. The opposite of this Minneapolis band, who rolled up their sleeves, and released their full-length alone. Almost one hour of sludge music to sing under a mud shower, breaking Replacements and Husker Dü records.