Ker Beats
Par Patron, lundi 16 avril 2012 à 14:03 :: ELECTRO/TECHNO :: #1215 :: rss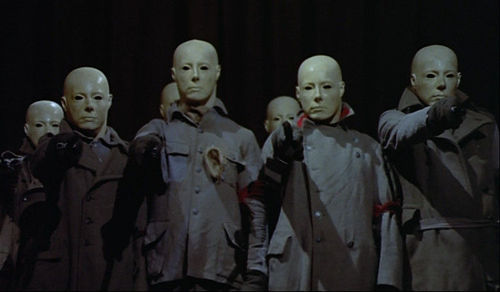 1
JIMMY EDGAR - This one's for the children
(Hotflush)
Le corbeau rachitique de Detroit revient en force avec ce titre electro, à la croisée de Dopplereffekt et le spoken word de Prince.
2
D' MARC CANTU - Fallen
(Creme Organization)
Un des albums de l'année. Rien à jeter.
3
EQUATION - The answer
(Rush Hour)
Encore et toujours Rush Hour, réédition des héros oubliés de la House, The Burrel Brothers. Pour le coup ça sonne plus electro de Detroit que house de Chicago.
4
MAELSTROM - USSR (The Hacker remix)
(Sound Pellegrino)
Le boss revient fort cette année.
5
RUSTY EGAN - The other side
(Blitz Club)
Blitz Club avait réédité l'excellent "R.E.R.B" de Shock... Là c'est au tour d'un des membres de Visage.
6
NRSB-11 - 685 471 1
(WeMe Records)
Gerald Donald (avec Dj Stingray). Rien que ces deux noms devraient suffire.
7
MIRO PAJIC - Saturn love (Tomas More remix)
(Illegal Alien)
L'original ne casse pas des briques... La relecture musclée de Tomas More l'emmène à un niveau... supérieur.
8
RROSE - Waterfall
(Sandwell District)
Sandwell District est loin d'avoir rendu l'âme... Techno, Techno, Techno.
9
BRIOSKI - Radio Anatomy
(Nang)
Tuerie italo.
10
DJEDJOTRONIC - Miamite
(BNR)
Ouais ouais... Ça sent le tupperware préparé par maman et réchauffé au micro-ondes, mais quand on a faim on est bien content de l'avoir.
Signé SOUNDSCRIBER