DIE SELEKTION: Muscle & love
Par Patron, jeudi 10 mai 2012 à 18:08 :: INTERVIEWS :: #1242 :: rss
Saviez-vous que Roland Emmerich était né à Stuttgart ? C'est vrai on s'en tape. C'est de là que vient Die Selektion, et ils sont prêts pour 2012. Le trio a ravivé l'image de la trompette au sein de la scène dark electronics tout en cultivant une esthétique homo-sado qui fait ressembler Gabi Delgado à un chaton. Si Hegel était encore vivant, il mosherait forcément sur leur son. Ils seront bientôt en tournée en Europe (Paris le 1er juin) alors soyez physiques, en forme, et préparez-vous pour la performance muscle et art. Comme Robert Bosch l'a dit (de Stuttgart lui aussi): c'est du travail de pro.
Did you know Stuttgart was the town of Roland Emmerich ? Who cares. It's where Die Selektion comes from, and they're ready for 2012. They achieved to raise the trumpet profile within the dark electronic scene, along with homo-sado aesthetics that make Gabi Delgado looks like pussy. If Hegel was still alive he'll be moshing to their sound. They'll soon be touring Europe so do push-ups, be fit and prepare you for the muscle & art performance. As Stuttgart native industrialist Robert Bosch said: it's a work of professionals.
Réponses/Answers: Max Rieger. Amour/Love: Luca Morte.
English version below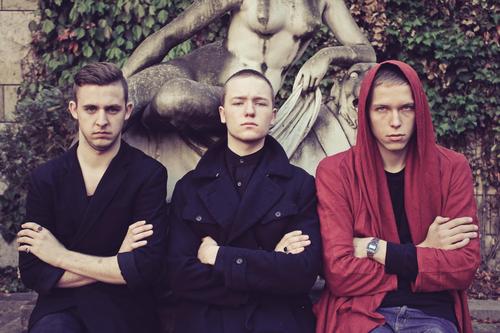 Que faîtes-vous à côté de Die Selektion?
On traîne, on travaille dans des stations services, on va à l'école.
Chanter en allemand est une décision consciente ?
Oui. La meilleure façon de rendre un texte vivant c'est de l'écrire dans sa langue maternelle. C'était clair dès le début que nous ferions nos paroles en allemand. L'allemand est aussi une langue très difficile et s'intègre parfaitement à tous les autres instruments de musique. Die Selektion ne fonctionnerait pas avec des paroles en français. C'est trop doux. Une chose importante également est que nous voyons la voix comme un instrument supplémentaire. Beaucoup de gens séparent le musicien du chanteur, ce qui est totalement arriéré. Vous pouvez voir cette merde à la télévision tous les jours.
Ici, en France, beaucoup de nouveaux groupes chantent en anglais, souvent mal. Je remarque que c'est rarement le cas en Allemagne. Comment tu expliques ça ?
Les gens ont peur de chanter dans leur propre langue parce qu'ils ont honte d'être compris. Cela semble bizarre mais c'est la vérité. Chanter "I love you" en anglais est facile. Mais chanter "Ich liebe dich" (ou "Je t'aime" en France) est bien plus difficile. Tous ces gars ont peur. Nous n'avons pas peur.
C'est comment la vie à Stuttgart pour les jeunes hommes ?
Cela dépend quel genre de jeune homme tu es. Beaucoup se sentent très à l'aise ici. Ils vont à l'école, à l'université, tombent amoureux, font des enfants, achètent une maison et meurent. C'est une histoire sans fin. Pour quelqu'un qui fait des trucs culturels, c'est dur Stuttgart, parce que la scène n'existe pas.
Quel est votre parcours musical ?
Hannes est le garçon orchestre. Il tourne dans le monde avec son orchestre jouant dans toutes les grandes villes. Max vient d'un milieu Techno, mais a également joué dans plusieurs groupes noisepunk/shoegaze. Luca est totalement croc love de New Wave, Neofolk et tout ça.
Un grand nombre de groupes imitent la vieille EBM, l'indus, la cold wave, mais vous, vous apportez une approche différente. Vous en avez eu marre du revival 80's ? Qui a eu l'idée de la trompette ?
Non, ça ne nous ennuie pas. Die Selektion c'est simplement un dosage de nous trois, qui provenons de tendances musicales complètement différentes. Donc, ça a semblé être la seule possibilité de créer ce son. Après notre première chanson, nous connaissions notre style, qui peut paraître inhabituel, mais qui était évident pour nous. Hannes jouait de la trompette dans le groupe de Luca avant que nous formions Die Selektion. Nous n'y avons pas vraiment réfléchi. C'est arrivé comme ça.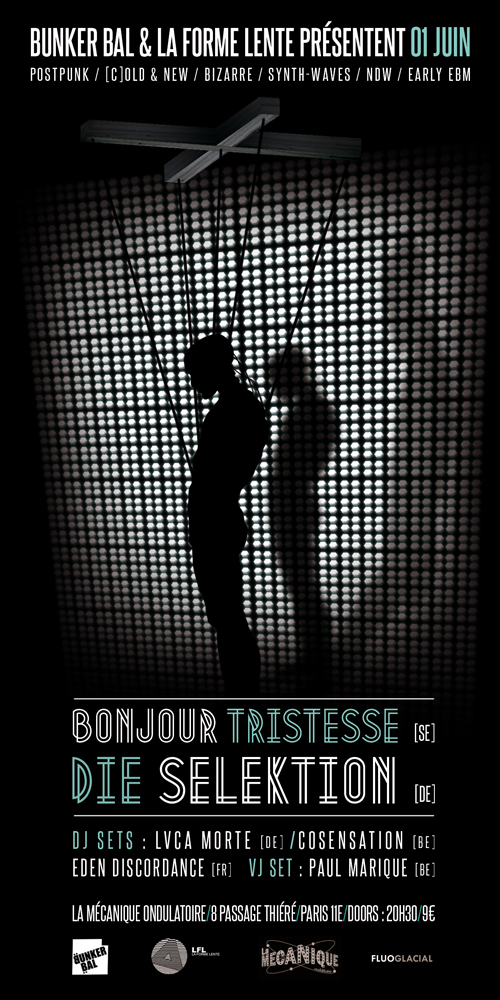 Que voulez-vous dire dans vos chansons ?
Que chaque être humain est capable d'aimer, trahir et haïr et que toutes ces choses n'ont pas à être craintes.
C'est quoi cette cape que Luca porte tout le temps sur scène ?!
C'est la cape de la chance et l'amour. Elle nous garde au chaud et est parfaite pour se cacher, si tu es sur le point de faire des choses obscènes en coulisses.
Vous avez joué un peu à l'étranger, comment les gens réagissent ? Avez-vous une fan base dans votre pays ?
C'était incroyable de jouer en Italie et en Suisse, les gens ont vraiment apprécié nos performances. Notre plus grand contingent de fans est toujours à Berlin. Nous avons déjà joué là-bas 5 fois, et c'est toujours merveilleux et très amusant.
Dans quelle mesure vous sentez-vous concernés par l'art et la mode ?
On s'en tape à vrai dire, nous sommes tout simplement beaux.
Laibach a déclaré dans les 80s que la politique était la forme ultime de l'art. Que pensez-vous de ça ?
Cela a bien fonctionné dans les années 80. Il y avait suffisamment de problèmes et les gens étaient furieux. Aujourd'hui, tout le monde s'en fout. Laibach avaient raison. Mais ça ne marcherait plus aujourd'hui. Nous n'allons pas devenir un groupe politique.
Faites-vous attention à votre public ? Quel genre de personnes viennent à vos concerts ?
Un tas de gens bizarres, des gays, des goths et d'innocentes écolières.
Aujourd'hui, n'importe que groupe 'cold' avec un look, une identité, draine énormément d'attention sur Internet, qui peut se révéler factice et ne durer que quelques mois. Avez-vous peur du «buzz» ?
Non, parce que nous n'imitions rien ni personne. Nous allons survivre à toute cette merde à la mode.
Quel est le future de votre future musique ?
Nous travaillons actuellement sur notre deuxième album qui va être putain de bien. Peut-être plus de mélodies, plus de synthés ayant des rapports sexuels entre eux. Mais surtout des muscles et de la haine.
Quels groupes de votre patelin nous conseillez-vous ?
Le groupe noisepunk "Die Nerven" et le projet expérimental neofolk de Luca Death of Abel".
Dernier mot ?
On se voit en tournée bande de chiennes.
19.05. - HEILBRONN (DE) / Mobilat
26.05. - GRONINGEN (NL) / Vera @ Downstage 27.05. - AACHEN (DE) / AZ
28.05. - BOCHUM (DE) Theater Rott-Str.
30.05. - LILLE (FR)/ Centre Culturel Libertaire
01.06. - PARIS (FR) / La Mécanique Ondulatoire
02.06. - LONDON (UK) / Bethnal Green Working Men's Club @ Brave Exhibitions
05.06. - LUCERNE (CH) / Sedel Club
06.06. - VIENNA (AT) / Rhiz
07.06. - PRAGUE (CZ) / K4
08.06. - BERLIN (DE) - Death#Disco
03.08. - SALZBURG (AT) - Stuck! Festival
17.08. - VÄXJÖ (SWE) - Kalabalik Festival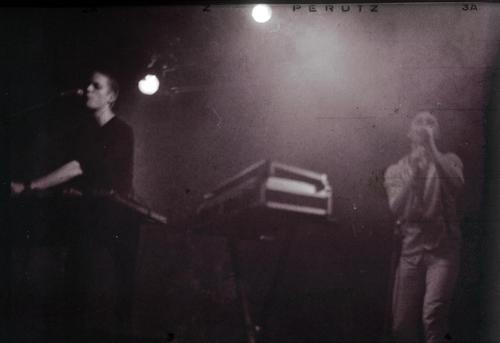 --- ENGLISH VERSION ---
What are you doing apart Die Selektion ?
Hanging around, working at gas stations, going to school.
Singing in german was a conscious decision ?
Yes. The easiest way to bring a text alive is writing it in your native language. It was clear from the beginning that we will do German lyrics. German is also a very hard language and fits perfectly to all the other musical instruments. Die Selektion wouldn't work with French lyrics. It's too soft. One important part is also that we see vocals as an additional instrument. Many people divide between musician and singer, which is totally retarded. You can see that shit in television everyday.
Here in France, a lot of newer bands sing in english, often badly. I notice it's rarely the same in Germany. How do you explain that ?
People are afraid of singing in their own language because they are ashamed of being understood. This sounds weird but it's the truth. Singing "I love you" in English is easy. But singing "Ich liebe dich" (or "Je t'aime" in France) is way harder. All these guys are afraid. We are not afraid.
How's life in Stuttgart for young men ?
It depends of what kind of young man you are. Many feel very comfortable here. They go to school, go to university, fall in love, make children, buy a house and die. It's a never ending story.For someone doing cultural stuff it's hard in Stuttgart, because the scene is missing.
What is your musical background ?
Hannes is the orchestral boy. He tours around the world with his orchestra playing all the big cities. Max comes from a Techno background but has also been playing in several noisepunk / shoegaze bands. Luca is totally in love with New Wave, Neofolk and stuff.
A lot of bands imitate the old EBM, industrial, or cold wave sound, but you bring a different approach to it. Were you bored about that ? Who got the idea for the trumpet ?
No we are not bored. It was just the mix of us three coming from completely different musical tendencies. So it seemed to be the only possibility to create this sound. After our first song, we knew our style, which may be unusual, but it was normal for us. Hannes played trumpet in Luca's band before we founded Die Selektion. We didn't really think about it. It just happened.
What do you want to say in your songs ?
That every human being is able to love, betray and hate and that all those things are nothing to be scared about.
What about this mantle Luca always wears on stage ?!
It's the mantle of luck and love. Keeps us warm and is perfect to hide, if you're about to do nasty things in the backstage room.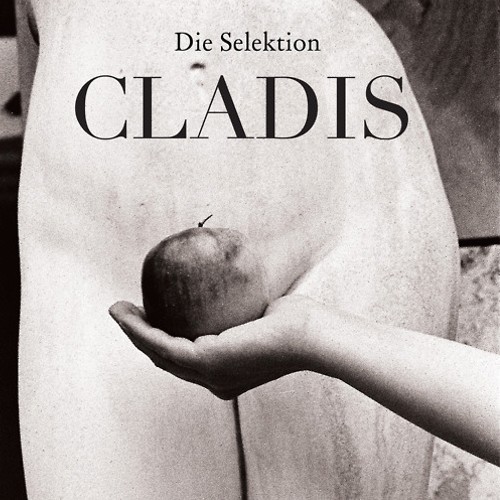 You played some shows abroad, how people reacted ? Do you have a following in your country?
It was amazing to play shows in Italy and Switzerland, people really enjoyed our Live performances. Our biggest fanbase is still in Berlin. We already played there 5 times now, we always had a wonderful time and much fun.
In what measures do you feel concerned with art and fashion ?
We don't really care about it, we are simply good-looking.
In the 80's, Laibach said politics was the ultimate form of art. What do you think about that ?
This worked in the 80's. There were enough problems and the people were pissed. Today nobody gives a shit. Laibach were right. But this wouldn't work today. We are not going to become a political band.
Do you care about your audience ? What kind of people are coming to your shows ?
A bunch of weirdos, gays, goths and innocent school girls.
Today, whatever 'coldish' band with a look, an identity, drains a lot of internet attention, that could be factice and doesn't last a couple of months. Are you afraid of this 'buzz' thing ?
No, because we are not imitating anything. We will survive all this trendy shit.
What is the future of your future music ?
We are currently working on our second album which is going to be fucking awesome. Maybe some more melodies, more synths having sex with each other. But especially muscle and hate.
Do you have any advices regarding new interesting things from your area ?
Max' noisepunk band "Die Nerven" and Luca's experimental Neofolk project "Death of Abel".
Last words ?
See you on tour bitches.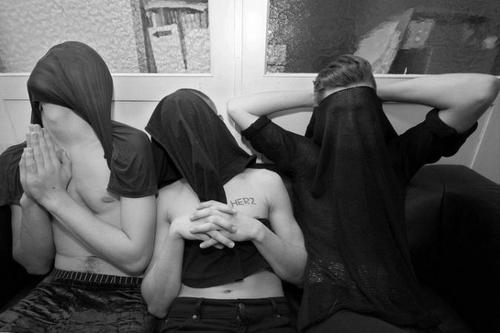 GERMAN VERSION