DIE BRÜCKE (1959)
Par Patron, mercredi 30 mai 2012 à 21:07 :: FILMS ANCIENS :: #1253 :: rss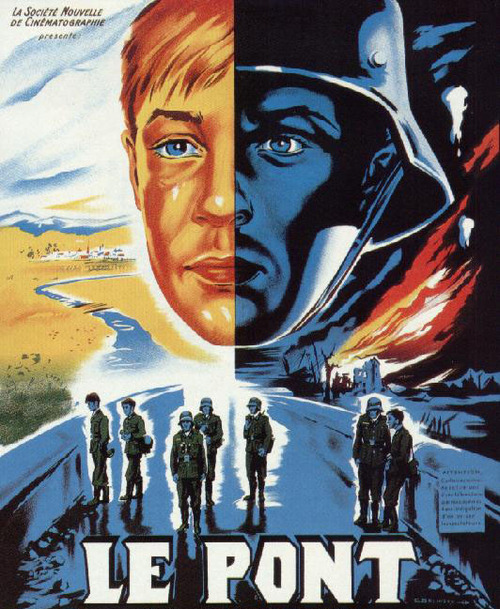 Avril 1945. C'est la débâcle dans l'armée allemande. Les officiers sauvent ce qui peut être encore sauvé ou se sauvent tout court, laissant la Volkssturm (chair à canon) aux mains des alliés qui déboulent. A Cham, paisible bourgade de Bavière, ce sont les adolescents qui sont éduqués à la guerre. Fascinés par le cratère qu'a produit un obus aux abords du village quelques jours auparavant, les gamins de 15 ans idéalisent le combat contre l'ennemi et la grandeur de leur pays. Mais les américains arrivent plus vite que prévu. Dotés de faibles rudiments du maniement d'armes et de boites de conserves, les ados sont tous les 7 chargés de protéger le pont qui donne accès à la ville. Un pont qui sera détruit par des sapeurs le lendemain... Le club des 7, eux-mêmes fils de soldats, au milieu de conflits personnels ou familiaux, sont heureux d'être là, naïfs, idéalistes et obtus; ils veulent participer à leur échelle. Mais les choses vont se corser.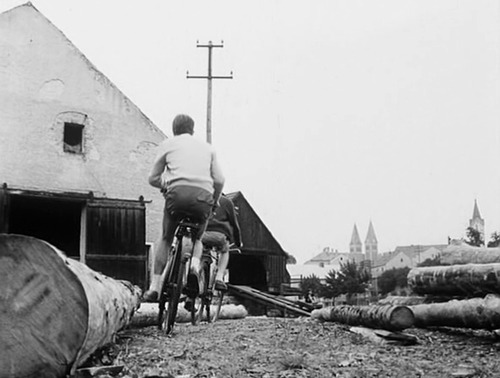 Le sergent vétéran responsable de la jeune brigade, parti chercher du café, se fait prendre pour un déserteur par des gendarmes en patrouille, il fuit leur connerie quand ceux-ci lui tirent dans le dos. Aïe Hitler. Les gosses sont maintenant seuls, et pourtant juste à quelques centaines de mètres de leurs foyers, eux qui rêvaient d'aventure et de voyage. Ils se contentent de voir passer les convois de troupes qui reviennent du front avec leur lot d'estropiés, de borgnes, d'ensanglantés, et commencent à réaliser. Jamais pris au sérieux par leurs pairs qui veulent les renvoyer au "kindergarten", ils s'obstinent. Lorsque que le premier avion allié fonce sur le pont, tout fout le camp. Les chars arrivent (en bois, l'Allemagne n'en possédait plus à l'époque!) et les jeunes se livrent dans une lutte vaine contre des soldats expérimentés. Réussissant à stopper 2 chars, ils se feront avoir un par un dans des circonstances allant du drame à l'absurde, jusqu'à ne rester plus que deux. Puis un seul, quand les sapeurs arrivent pour dynamiter le pont les gosses ne comprennent pas, "tout ça pour ça", coup de feu sur eux comme un dernier râle. Le survivant s'appelle Gregor Dorfmeister, il rapporta cette histoire vraie à Bernard Wicki qui en fit un film d'un réalisme implacab'.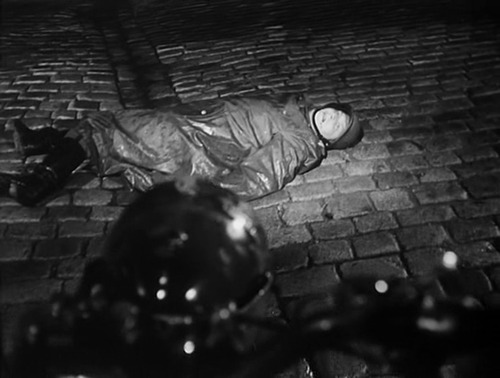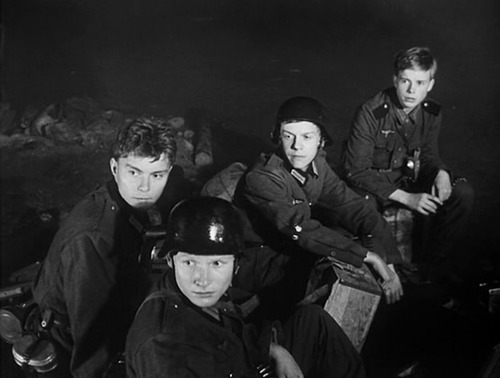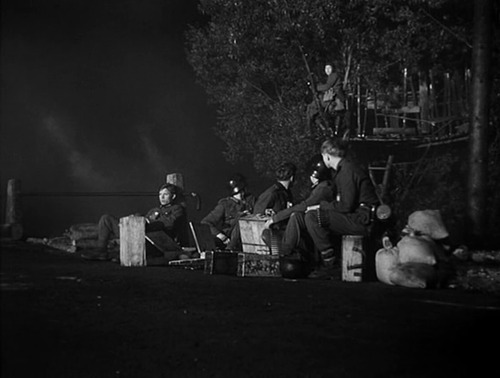 April 1945. It's the stampede in the German army. Officers save what can still be saved or simply run away, leaving the Volkssturm (cannon fodder) in the hands of the allies. In Cham, a little and peaceful Bavaria's town, that's the teenagers who are trained to war. Fascinated by the crater a shell has produced near the village some days before, 15 years old kids idealize the fight against the enemy and the greatness of their country. But the Americans arrive sooner than expected. With poor basics of handling firearms and some cans, they're all 7 designed to protect the bridge that leads to the city. A bridge that will destroyed by two sappers the following day. Adolescents, sons of soldiers themselves, in the midst of personal or family crisis, are happy to be there, naive, idealistic and purposeful with no purpose, they want to participate at their level. But things will get tougher.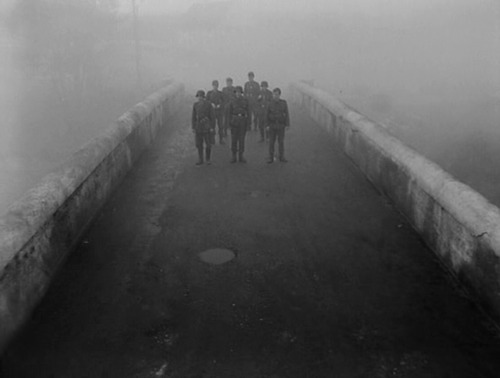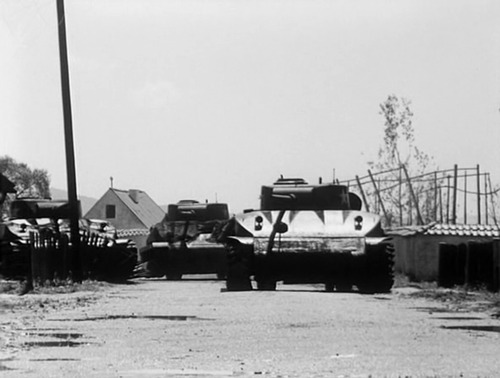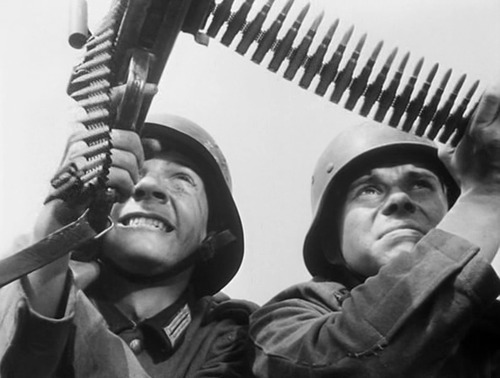 The veteran sergeant in charge of the young brigade, away to get coffee, is taken for a deserter by two gendarmes on patrol, trying to avoid their bullshit they shoot him in the back. Ail Hitler. The kids are now alone, even just a few hundred meters from their homes, they who hoped about travel adventures. They see the convoys of troops returning from the front, crippled, one-eyed, bloody, and begin to realize what war is. Never taken seriously by their peers who want to send them back to the "kindergarten", they persist. When the first Allied plane swoops to the bridge, everything goes wild. Tanks follow (made of wood, Germany had no more tanks back then!) and youngs engage in a futile struggle against experienced soldiers. Managing to stop two tanks, they'll be killed one by one under circumstances that'll range from serious to absurd matters, to just remain two at the end. And then one, when the engineers arrive to blow up the bridge, kids don't understand, "our bros died in vain", they shoot at them like in a death rattle. The survivor is called Gregor Dorfmeister, he brought this true story to Bernard Wicki, who made it a relentless realistic movie.