LIVE... SUBURBIA: The Quest for Cool
Par ROD, lundi 30 juillet 2012 à 19:25 :: LECTURES :: #1174 :: rss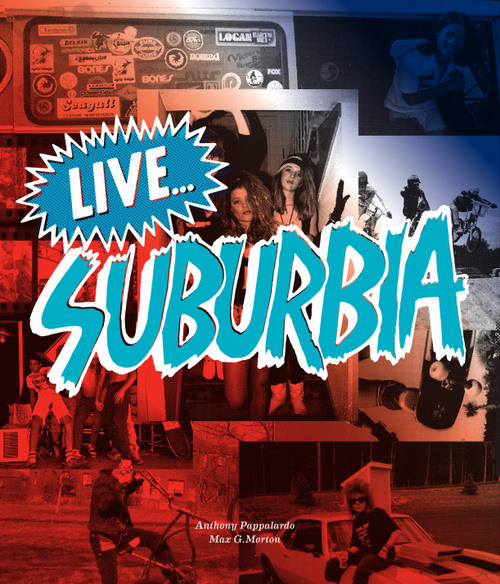 Ce livre pourrait être celui de plein de kids, américains ou pas, passés du bi-cross agressif au skate, du heavy metal au hardcore, du punk au straight edge,... entassés dans des caisses pour bouger aux concerts, chillant devant des vidéos de skate, dans des chambres de potes, des parkings... un skate sous le bras, un seveninch sous l'autre... L'histoire de la quête du cool à travers la période bénie de l'adolescence. Une génération sacrifiée ? Au-delà d'un segment de marché en tous cas, une aventure unique et obligée. Ce livre est d'ailleurs l'occasion de nous poser la question: IS THERE LIFE AFTER YOUTH ?
This book could have been the journal of a lot of kids, American or not, went from aggressive BMX to skate, from heavy metal to hardcore, from punk to straight edge... packed in cars moving to shows, watching skate videotapes, chilling in mate's bedrooms, in parking lots... a skateboard under the arm, a 12" below the other... This is the story of the quest for cool through the blessed period of teenage. A lost generation? More than a market segment, an unique and unavoidable adventure. This book is also an opportunity to ask us the question: IS THERE LIFE AFTER YOUTH?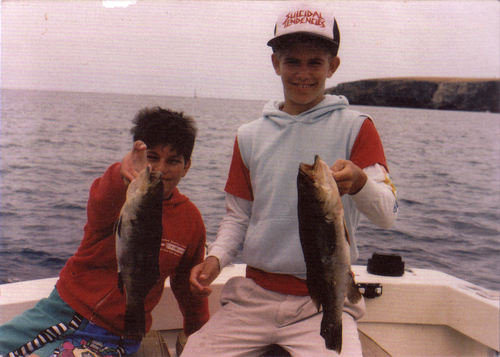 Deux larrons tentent d"y répondre : Max G. Morton, écrivain marginal, qui a vécu le passage des 70's aux 80's avec un penchant pour le côté obscur. Anthony Pappalardo, skate edge, n'est pas le skater pro découvert dans la vidéo Photosynthesis (Habitat/Alien Workshop) pendant qu'on se goinfrait de... mais c'est pas l'thème, oh! Non, c'est son homonyme, guitariste dans deux groupes emblématiques du hardcore des années 90: Ten Yard Fight et In My Eyes. Tony a auparavant co-écrit Radio Silence, un recueil de visuels de la scène hardcore. Les deux types ont réuni ici leurs photos souvenirs et se sont munis de leur plume la plus incisive pour revenir avec beaucoup de fun et de recul sur leurs adolescences dans les USA des années soleil, terrain idéal de la rébellion marchandise.
Two grown boys are trying to answer: Max G. Morton, marginal author, who lived the transition from 70s to 80s with a penchant for the dark side. Anthony Pappalardo, skate edger, but not the pro skater discovered in the Photosynthesis videotape (Habitat/Alien Workshop) while we were puffing... that's not the matter here! No, that's his namesake, guitarist in two iconic hardcore bands of the 90s: Ten Yard Fight and In My Eyes. The man also co-wrote Radio Silence, a collection of visuals from the hardcore scene. Both have combined their memories and pictures and armed themselves with their most incisive inspiration to come back, with a lot of fun and hindsight, on their teen age in the USA, a perfect ground for the marketed rebellion.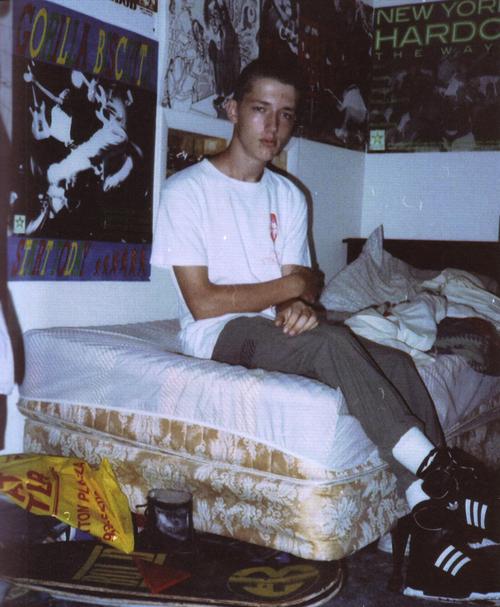 L'un grandit à Minneapolis, l'autre à Salem, pas trop les villes qui donnent du rêve. Ils vont alors chercher l'évasion dans la musique violente. Le cheminement se prolonge du punk au hard rock (
Aerosmith
sont du coin), ou inversement, les deux se recoupent, ils touchent à tout, expérimentent la rage en live, et se retrouvent déjà en opposition aux collégiens bien conformes qu'ils côtoient. Un code d'honneur strict fait l'unanimité dans leurs rangs. Craig Finn, le lyriciste punk, revient sur cette époque (où l'on ne trouvait pas de t-shirt Ramones chez H&M) dans l'intro qui assure.
One grew up in Minneapolis, one in Salem, not very dreamful cities. They'll try to escape this state through violent music. The path extends from punk to hard rock (
Aerosmith
are from around), or vice versa, the two overlap, they experiment everything, live show anger, and become already in opposition to many conformed students around them. A strict code of honor is unanimous in their ranks. Craig Finn, the punk lyricist, tells us about this time (when there was no Ramones t-shirt in H&M shopwindows) in the fresh foreword.
"Par exemple, avec tes amis, tu n'étais pas autorisé à écrire le nom d'un groupe sur ton classeur si tu ne possédais pas l'album. Tu n'avais pas le droit de porter le t-shirt si tu n'avais pas vu le groupe en live. Les règles étaient très claires. Elles étaient gravées dans la pierre."
"For instance, amongst friends, you weren't allowed to write a band name on your school folder unless you owned the album. You weren't allowed to wear the t-shirt unless you had seen the band live. There was no grey area on these rules. They were written in stone."
"Ces concerts du dimanche soir m'ont fait réaliser que bien qu'il y avait quelques légères différences entre un fan de Cro-Mags et un goth, nous avions une chose en commun: on ne ressemblait pas aux autres gamins de nos écoles. C'était une communauté d'outsiders, et il y avait un certain réconfort dans ces soirées, parce qu'on savait que partout autour de la ville il y avait d'autres kids qui vivaient eux aussi dans l'attente du weekend..."
"Those sunday nights made me realize that while there were slight differences between a Cro-Mags fan and a goth, what we had in common was that we were all a little different than the kids at our own schools. This was a community of outsiders, and there was comfort in those evenings, knowing that everywhere around the city there were kids living for the weeekend..."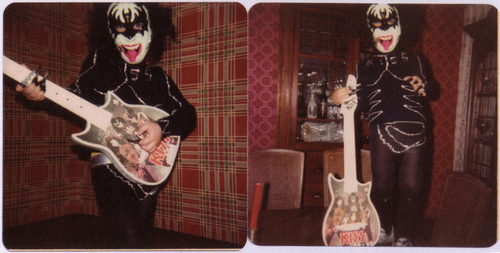 "Birth/school/Metallica/death" est la règle de vie qui concerne un paquet de jeunes blancs-becs d'alors. C'est en tous cas le climax de Morton vers ses 14 ans. Son entrée en matière dans le livre est un putain de guide pour profiter de son âge bête, à la fois universel et anecdotique, mais surtout très drôle. Du Karate, du maquillage Kiss, de la Oi! et des Ouija boards... puis tu passes à 20 et y'a plus de teen dans ton âge. Tu te remémores alors tous ces samedis aprem passés au Chopping Mall à mater les meufs en bouffant des pizzas, avant de feuilleter l'album photo de la famille et tes vieux patchworks débiles.
"Birth/school/Metallica/death" is the rule of life for a bunch of callow youngs of that time. Anyway, it's the climax of Morton approaching 14 years old. His first words in the book are a fucking guide to enjoy the dumb age, universal and anecdotal at once, but mainly very funny. Karate, Kiss makeup, Oi! and Ouija boards... then you move to 20 and there's no more teen in your age. You remember all those saturdays spent at the Chopping Mall eating pizzas watching chicks, before leafing through the family photo album and your old moronic patchworks.
"Quelques tattoos maison et plaintes pour violence plus tard, Geraldo (de Fox News) invite des skins à la télé et tout le monde croit que tu votes pour Hitler. Ton trou du cul de cousin s'est mis au skate, ton nouveau beau-père mate un porno qui s'appelle New Wave Hookers, un type te sort qu'Anthrax c'est du NYHC, et tu es officiellement passé à autre chose. Tu fumes un joint en écoutant Paul's Boutique, niques une meuf et gaspilles quelques années. ..."
MGM
"A few home tattoos and assault charges later, Geraldo has some skins on the TV and everyone thinks you're voting for Hitler. Your regular ass-cousin has taken to riding a skateboard, your now step-dad has a porno called New Wave Hookers, someone tells you that Anthrax is NYHC, and you are officially over it. You smoke a joint to Paul's Boutique, fuck a girl and lose a few years. ..."
MGM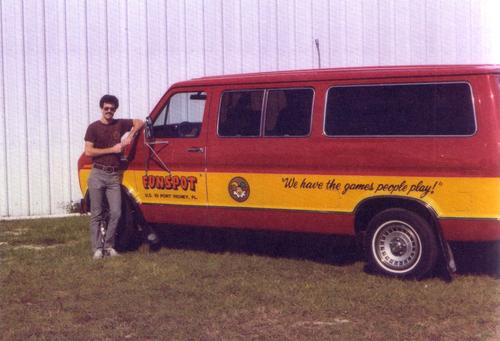 Du matin au soir, les écrans sont partout. Ado aux USA équivalait à vivre dans un film.
Over the Edge, Suburbia
... Classiques. Mais aussi
Night Flight
ou
120 Minutes
vautrés devant la télé. Et quand ce n'est pas l'écran diable c'est celui des jeux d'arcade (passage obligé), qui se transformera quelques mois plus tard en un abonnement au club de kung-fu local pour gagner plus de sensations. Du kid au beauf, la frontière est fine.
From day to night, the screens are everywhere. In the Uniteen States, you lived like in a movie.
Over the Edge, Suburbia
... Standards. But also
Night Flight
or
120 Minutes
sprawled on the couch in front of TV. And when this isn't the evil screen, it's the screen from the arcade games (obligatory passage) which will turn a few months later into a kung fu club membership to gain more thrills. From kid to redneck, that's a thin border.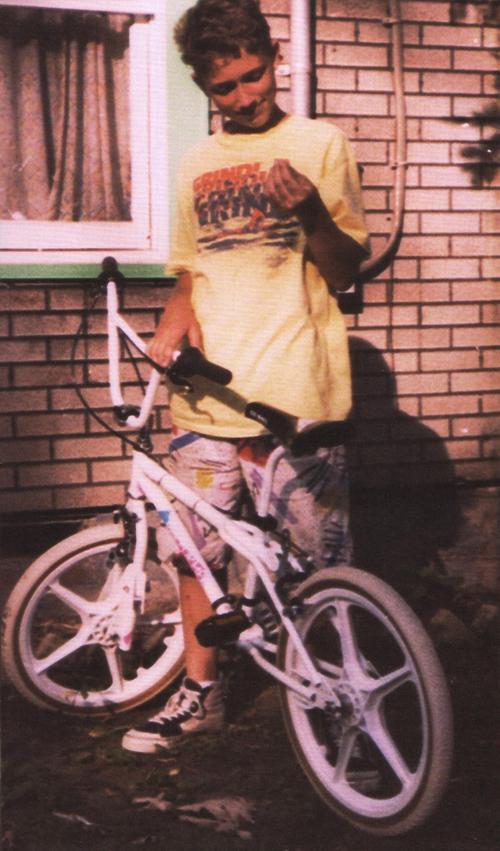 La recherche perpétuelle du divertissement cool et subversif à la fois entraîne nos BMX bandits dans les champs de bosses où la compétition fait rage. C'est surtout Max G. Morton, le plus vieux, qui en parle. Côté Pappalardo, lui greffe sa boombox à son bicloo pour un effet garanti. J'ai vu un type en trotinette l'autre soir qui avait fait pareil, sa sono crachait du Benny Benassi à 1h du mat dans le 12ème arrondissement, puissant, mais c'est pas l'thème.
The perpetual search of both cool and subversive entertainment leads our BMX bandits in the bump fields where competition is fierce. In the Pappalardo side (Max G. Morton, the oldest, speaks much in the beginning), Anthony transplants his boombox to his bike for a full-force effect. I saw a guy on a scooter the other night who had done the same, the Benny Benassi sound was spitting all around the 12th district at 1am, powerful, but that's not the matter.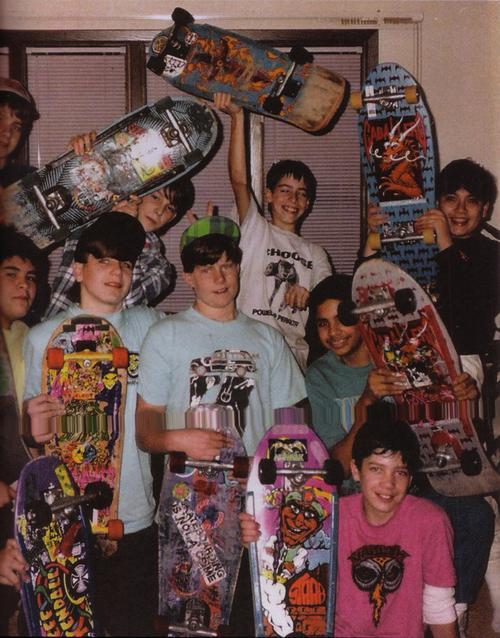 Le hobby qui va atteindre le sommet du Cool (entendons-nous, non récupéré) dans les 80's est évidemment le skate. Curieusement, le skate est resté 'cool' depuis cinquante ans, contrairement au roller, au mountain-board ou à l'escalade, étonnant non? Max se fait offrir une planche vendue comme indestructible par sa mère, mais bien moche, il va tout faire tout pour la détruire, jusqu'à la passer sous les roues d'un camion. Que dalle. La board est possédée par le démon. Anthony lui, se souvient de la première en salles du risible
Gleaming the Cube
, où Christian Slater en skater justicier est doublé par tous les pros de l'époque. Une daube vintage. Tony préfère se mettre bien devant Pamela Gidley dans
Thrashin'
, ou devant American Ninja (ah!) et la dernière VHS Vision (
Psycho Skate
) pour suivre l'évolution du style et des tricks, de la rampe à la street.
The hobby that will reach the top of the Cool (a term not recuperated yet) in the 80's is obviously skateboarding. In fact, skateboarding remained 'cool' for fifty years, unlike rollerblading, mountain-boarding or bmxing, strange isn't it? Max is offered a board by her mother, sold as indestructible, but the board sucked and he did everything he could to destroy it, until got it under the wheels of a truck. The board was literally possessed by the devil. Anthony remembers the first screening of the comical
Gleaming the Cube
, where Christian Slater is dubbed by all the pro skaters of that time. A vintage crap. Tony prefered watching Pamela Gidley in
Thrashin'
, or American Ninja (ah!) and the last Vision tape (
Psycho Skate
) to track the evolution of style and tricks, from ramp to street.
"La morale de l'histoire est que les skaters sont des putain de losers et que tu as toujours besoin d'un flic pour sauver la mise... beurk."
AP
"The moral of the story was that skaters are fucking losers and you still need a cop to save the day... barf."
AP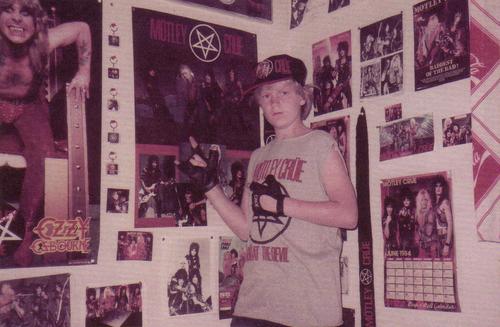 C'est l'heure des déménagements, fin de tout teen movie qui se respecte. Ce sera le New Hampshire pour l'un et le New England pour l'autre. Limite voisins. Motley Crue sont maintenant des stars internationales. C'est l'âge où ça démange, et ça tombe bien, un duvet de plus en plus agressif apparaît sous le nez d'Anthony, c'est le moment heavy metal. Les chicks y sont plus faciles que dans le skate et le punk, du moins dans les magazines (triste destin pour les groupies du Crüe).
"Fuck like a beast"
! Twisted Sister et Ted Nugent à fond les ballons. C'est nard rock shopping et stickers mania (le culte de l'autocollant devrais-je dire). Les ados succombent à la rébellion manufacturée.
This is the time of removals, the end of any classic teen movie. This is New Hampshire for one and New England for the other. Boundary neighbors. Motley Crue are now international stars. This is the age where it's itching between the two legs, and it's good, an aggressive fuzz appears under the nose of Anthony, it's heavy metal time. The chicks seems easier than in the skate and punk scenes, at least in magazines (sad destiny for the Crüe groupies).
"Fuck Like A Beast"
! Ted Nugent and Twisted Sister are played loud. Hard Rock shopping and stickers mania (the cult of the sticker should I say); Teens succumb to manufactured rebellion.
"Si tu te rendais au centre commercial, tout le monde savait qu'un métalleux était en train de faire ses courses à cause de l'amas d'autocollants qui recouvrait la voiture la plus pourrie du parking"
MGM
"If you were a metalhead at the mall, everyone knew you were doing some shopping due to the glob of stickers coated on the shittiest car in the parking lot."
MGM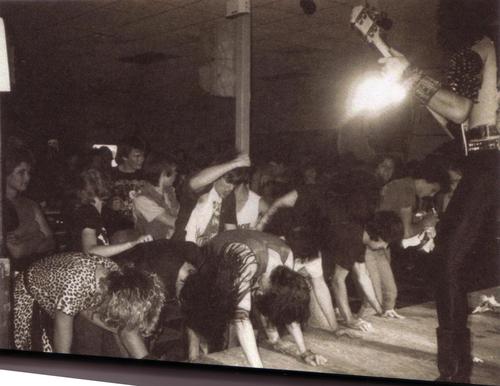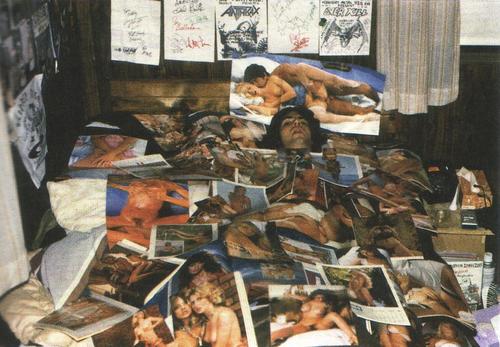 Dans les années 80 aux États-Unis, les skinheads et les satanistes étaient les ennemis publics n°1. Pappalardo créa donc son culte avec des potes, le S.A.L.A.D. pour Satan Always Live After Death, hin hin. Bon ça n'ira pas chercher bien loin. Tout ça pour la déconne. A l'heure où Anthony fait le malin avec ses cheveux et slamme en Saucony high à des concentrations de bouclettes, Morton lui se fait institutionnalisé. A force de se battre à l'école et d'écouter
Accept
avec des skins nazis voilà ce qui arrive. L'ombre de la maison de redressement plane au dessus de sa tête et le célèbre clip de Suicidal Tendencies devient sa réalité.
Skinheads and satanists were public enemy no.1 in the U.S. during the 1980s. Therefore, Pappalardo created his own cult with friends, the S.A.L.A.D., stands for Satan Always Live After Death, hin hin. Well, it won't go far. All was about jokes. At a time when Anthony is smarting with his hair and slammed into Saucony high tops at curly hair meetings, Morton is institutionalized. When you constantly fighting at school and listening to
Accept
with Nazi skins, this is what happens. The shadow of the reformatory hovers above his head and makes the famous Suicidal Tendencies movie clip become his own reality.
"Ne pas avoir de t-shirt Black Sabbath me faisait un peu passer pour gay dans la section heavy metal de ma penderie."
MGM
"Not having a Sabbath shirt kind of made me a queer in the heavy metal section of the locker room."
MGM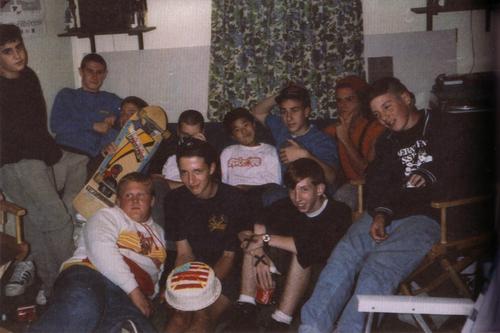 Après l'égarement adolescent, Pappalardo découvre la fougue d'Henry Rollins, le hardcore, les skins, tout ça. Il rencontre aussi sa première meuf, Kim, une gosse de riche qui va à des 'concerts', tandis que lui va à des 'shows' (ce qui donne une conversation hilarante). C'est d'ailleurs la guerre pour obtenir une place sur le siège arrière en vue du prochain concert à Boston. Fuir la banlieue morte, vite ! Les cassettes Maxwell de 90mn tournent dans les autoradios et représentent la voix de la suburbia. Chacun met sa compile à l'honneur sur le parking du supermarché le week-end venu, l'
American hardcore parking lot
comme véritable lieu de culte ! Les journées deviennent interminables dans l'attente du prochain colis de vinyles livré par UPS: la nouvelle drogue.
After teenage wanders, Pappalardo discovers the brashness of Henry Rollins, hardcore, skins and all that. He also encounters his first chick, Kim, a rich kid who goes to 'concerts', while he goes to 'shows' (and offers us an hilarious conversation). Although, this is the war to get some place in the back seat for the next hardcore show in Boston. Run away from the suburbs, quick ! 90 minutes Maxwell tapes are relaying in car radios, they symbolized the voice of suburbia. Everyone honored his tape compilation in the mall car park on weekends, a truly place of worship, all hail
American hardcore parking lot
! The days were endless waiting for the next vinyl package delivered by UPS: the new drug.
Comment choisir un disque ?
"Un disque de 1984 qui ressemblait moitié à du punk pouvait être une daube ou un classique, tu pouvais minimiser le risque si tu faisais gaffe à deux éléments clés de la pochette:
1. Quels t-shirts portent les membres du groupe et quels stickers ont-ils sur leurs amplis? S'ils aiment des groupes que tu aimes, il y a une forte chance qu'ils soient ou aient été influencés par eux.
2. Qui trouve t-on dans leur liste de remerciements? Peut-être qu'ils remercient des super groupes avec lesquels ils ont tourné ou juste une liste de groupes que tu aimes et que tu reconnais. Les groupes locaux merdiques remercient les membres de leur famille, les bars, leurs petites amies, les magasins de guitares et d'autres groupes merdiques."
AP
Trash or treasure ?
"A semi-punk looking record from 1984 could be trash or treasure, but you could minimize your risk if you looked at two key elements of the sleeve:
1. What t-shirts are the band members wearing and what stickers do they have on their equipment? If they liked bands you liked, there was a good chance they were influenced by or emulated them.
2. Who was on their thanks list? Maybe they thank some great band they toured with or just have a list of bands you like and recognize. Shitty local bands thanks a lot of family members, bars, girlfriends, guitar shops and other shitty bands."
AP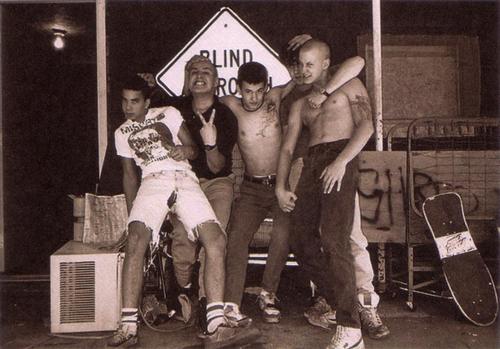 Me, you, youth crew ! Le jeune Anthony peut enfin s'identifier aux groupes qu'il écoute, des groupes qui jouent à la hauteur du public, inconcevable pour sa petite amie. C'est surtout
Youth of Today
qui le fascine, alors que la deuxième vague straight edge touche à sa fin. Mike D, un 'grand frère' de la scène, lui fait revivre la première vague et le patrimoine de Boston, DYS, SSD, ETC. Le straight edge est à la portée de tous et véhicule des valeurs plus fortes et nouvelles que le punk. Un show de Shelter conquit tout le monde (!), "Ray Cappo est plus petit que moi, dingue!". Le G.I. Joe des pochettes de disques se révèle en fait être un santon krishna qu'Anthony aurait bien voulu montrer à la récré le lendemain.
Me, you, youth crew! Young Anthony could finally identify with bands that he's listening, bands that play in front of their audience, unbelievable for his girlfriend. Especially
Youth of Today
that fascinates him, he lived the second wave of straight edge bands and Mike D, a 'big brother' of the scene, makes him discover the Boston heritage of DYS, SSD, ETC. The straight edge was within the reach of all, vehicled higher and newer values ​​than traditional punk. A Shelter show finished to conquer everybody (!), "Ray Cappo is smaller than me, crazy!". The GI Joe guy of the album covers was actually a kinda xkrishna puppetx Anthony would want to show at school the day after.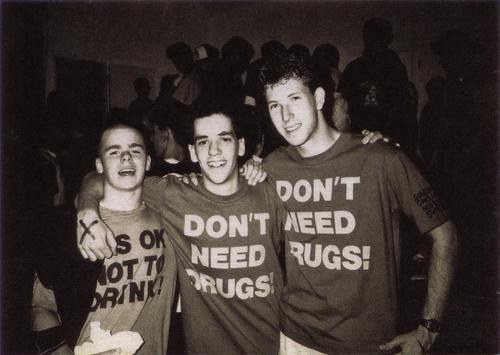 "Ce que j'aimais dans le hardcore plus que dans le metal c'est que les types des groupes sur les photos me ressemblaient. [...] Ils ne portaient pas de crête et de pics et tout ça; ils avaient les mêmes fringues que moi. Être punk revenait en fait très cher: des Doc Martens, de la coloration Manic Panic, et une veste en cuir te coûtaient au moins 300 dollars, ce qui n'était pas trop dans mes cordes. [...] J'adorais le concept d'une musique forte alliée à une discipline forte. Le Hardcore était parfait pour mon cerveau à cette époque. Peut-être que mon éducation catholique et des parents stricts ont fait qu'un mec qui aboie des ordres me paraissait finalement normal et plutôt cool."
AP
"What I liked about hardcore more than metal was that the dudes in the bands and in the pictures looked like me. [...] They weren't sporting mohawks and spikes and shit; they had the clothes I had. Being a punk was actually fucking expensive: Doc Martens, Manic Panic hair dye, and a leather jacket would run you at least 300 dollars, which wasn't in my universe. [...] I loved the idea of heavy music and heavy morals. Hardcore was a perfect fit for my brain then. Maybe it was my Catholic background of strict parents that made a dude barking orders at me sound totally normal and actually cool."
AP
"En surface, l'idée d'une armée de kids sobres mais tarés paraissait complètement bizarre, mais replace cette bande dans le contexte: la plus grande ville universitaire du monde, dirigée par des fraternités de mecs bourrés vomissant de la bière neuf mois par an. Ce n'est pas une surprise si ce mouvement s'est fondé en opposition aux élèves prétentieux d'écoles d'art, aux libéraux junior, et aux frat boys lourdingues."
AP
"On the surface, the idea of a sober army of fucked-up kids sounded completely scrambled, but plant this crew in the largest college town on earth, run by drunk pledges puking yellow beer nine months out of the year, and it's no surprise that this movement happened as a response to pretentious art school kids, under-read junior liberals, and loud frat boys."
AP
Max lui, est dans le trip de l'ultime culte jeune, skinhead! En partie pour faire chier sa mère, ancienne hippie-metal en quête de spiritualité. Il rencontre ensuite une batcave dans un club indus et c'est le goth love. Le carrefour de la fin des années 80 est à l'image de ce bouquin, tout entre en collision, de tous horizons : après le skate, le bmx, Kiss, Motley, les metalheads, le punk, les jeux d'arcade et le karaté, c'est désormais le straight edge, les skins, le graffiti, la oi!, Boyd Rice et les goths... Apocalypse subculture ! Même s'ils se retrouvent sur certains points, le différent parcours des deux narrateurs compose le gros mélange des genres.
Max is on something else, the ultimate youth cult: skin skin skinhead! Mostly to piss off her mother, a former metal-hippie in search of spirituality. Then he'll meet a batcave girl in an industrial club, and it'll be instantly the goth love. The late 80's rossroads is true to that book, everything collides, from all backgrounds: after the skate, bmx, Kiss, Motley, metalheads, punk, arcade games and karate, this is now the time for straight edge, skins, graffiti, oi!, Boyd Rice and goths... Apocalypse subculture! The different journey of the two narrators composes the bulk mixing of genres, even if they are correlative on some points and affinities.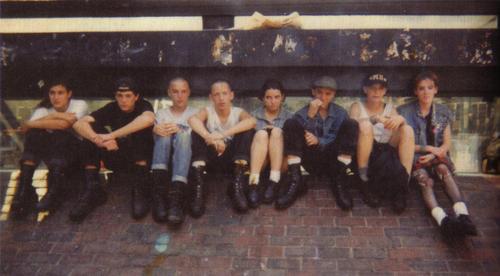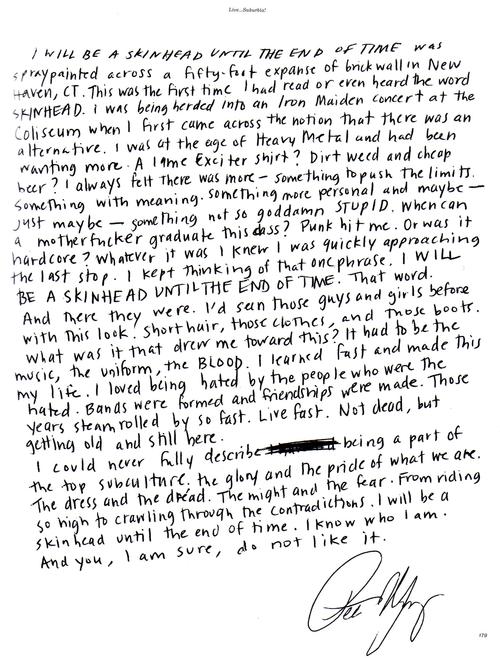 Les années 90 arrivent, l'ère de l'ironie. Plus rien n'est vraiment vécu à fond, à part la largeur des pantalons. Le rap, les magazines et le skate de rue, les treillis, colliers à boules, bonnets casquettes et autres teintures blondes sont maintenant la quintessence du look jeune XXL. Courtney Love et Trent Reznor sont les nouvelles idoles subversives des ados. Ça a tout de suite moins de gueule.
The 1990s arrived, the era of irony. Nothing is really lived fully, except the width of the pants. Hip hop, skate magazines and street skate, cargo pants, ball necklaces, hats caps and blonde dyed hair are now the epitome of XXL youthful look. Courtney Love and Trent Reznor become the new subversive teen idols. This looks definitely not as rad as before.
"Le choix était simple: tu achetais une paire de jeans Blind ou Bid Deals et tu les portais jusqu'à temps qu'ils tiennent debout tout seuls. [...] Quelques kids ont résisté à cette nouvelle mode et comme de vieux grincheux, ils nous attaquaient sous prétexte qu'on était lobotimisés et qu'on ressemblait à des clowns. On ressemblait vraiment à rien, mais eux étaient aussi ridicules dans leurs fringues serrées et tâchées, dans leurs Vans old-school montantes qui étaient aussi longues que des canoës et leur bousillaient les pieds. On s'en foutait de ressembler à Tom Knox dans telle vidéo Santa Cruz que tu n'avais jamais vu, alors pourquoi s'intéressaient-ils tant à notre look et nos futes dans lesquels on pouvait facilement passer à trois dedans ?"
AP
"The choice was simple: you bought a pair of Blind jeans or Big Deals and you wore them 'til they walked away on their own. [...] Some kids resisted this new trend and like bitchy old men, they'd bash us for being brainwashed and looking like clowns. We did look fucking stupid, but they looked equally stupid in their tight, stained undershirts and old-school Vans high-tops that looked as long as canoes and hurt their feet. We didn't care that they looked like Tom Knox in some Santa Cruz video that you never watched, so why should they care that we looked like a pack of crayons rolling around on popsicle sticks?"
AP
Blind Skateboards
iront jusqu'à parodier les vieux designs Powell pour faire du buzz, les têtes de morts sont out, c'est définitivement la fin d'une époque. Les Beastie Boys définissent le streetwear et le rap alternatif qui va sévir dans la décennie, et devenir la B.O. du skate, pendant que le hardcore devient la B.O. du metal, vous suivez ? Nos anciens sauvages vont tranquillement virer vers le
college rock
(Pixies, Galaxie 500, Lemonheads) et éventuellement enchaîner vers une inscription en école d'art sous fond de Sebadoh. Fin de millénaire et constat amer et sans équivoque d'Anthony P. lorsque de retour dans le mall de sa ville natale, il examine le monde qui l'entoure: Le futur est définitivement vers le retour...
Blind Skateboards
will even spoof the old Powell designs to make the buzz, skulls are decreed out, this is definitely the end of an era. The Beastie Boys define streetwear and alternative hip hop that will prevail in the decade, and become the soundtrack of skateboarding, while hardcore becomes the soundtrack of metal, do you still understand? Our wild alumni will quietly turning to
college rock
(Pixies, Galaxie 500, Lemonheads) and eventually bind to an inscription in art school, listening to Sebadoh. End of the millenium leads to bitter punch lines with the unequivocal statement of Anthony P. when back in his hometown, he's starring at the world around him: The past is definitely the future...
"Comme je continuais à analyser les murs, les magazines, et les humains, je notais que chaque nouveauté de mon enfance était désormais un film ou une trilogie. Tous les groupes, morts ou vivants, s'étaient reformés et jouaient à des festivals dans le désert où ils te faisaient payer l'eau. La nourriture autour de moi était soit bio et produite par un fermier urbain soit un triple-putain-de-burger-d'enculé. Je me trouvais à NYC, mais je suspectais ce phénomène de s'être diffusé à travers l'Amérique voire partout dans le monde. [...]
Quitter la banlieue était une erreur. Je me rappelle qu'un jour j'ai appris que je pouvais contrôler Tony Hawk avec un joystick et que KISS mettait à nouveau du maquillage. Les straight edge faisaient du baseball et du catch à la télé. Le billet d'un dollar avait la tête de mort des Misfits dessus. Aucun groupe hardcore n'avait vendu un million d'albums mais chaque nouvel étudiant avait sa copie de Check Your Head.
Dans le présent, Cindy Lauper encaisse mes courses. Un mec chiant qui fut jeté de tous les spots de skate et de tous les concerts punk a dessiné la propagande qui a servi à élire notre actuel président. Tous les humains que je voulais rencontrer lorsque j'étais un adolescent banlieusard à la fin des années 80 sont devenus des franchises dans le centre commercial de ma ville. [...]
Il était devenu impossible d'être flemmard, les idées étaient maintenant des marchandises et le cool la nouvelle monnaie. La nostalgie pouvait être téléchargée sur son téléphone mobile et glissée en lieu sûr dans ses poches pendant que l'on vérifiait la météo et le cours de la bourse, en allant un peu plus loin vers le passé"
AP
"As I continued to scan walls, magazines, and humans, I noticed that every novelty from my childhood was now a movie and a sequel. All bands, dead or alive, were back together and playing festivals in deserts where they charged you for water. The food around me was either grass-fed by an urban farmer or the triple-kick-ass-fuck-you-burger. I was in New York City, but I suspected this phenomenon was spreading through America and maybe all of Earth. [...]
Leaving suburbia was a blur. I remember learning one day that I could control Tony Hawk with a joystick and that KISS wore makeup again. Straight edge men threw baseballs and wrestled on television. The one-dollar bill had a Crimson Ghost on it. No hardcore record had sold a million copies but every dorm came with a copy of Check Your Head.
In the present, Cindy Lauper rang up my groceries. A man who was once kicked out of every skate spot and punk show for being annoying designed propaganda that aided the election of our current president. All the humans I wanted to meet as a suburban teenage boy in the late 1980s had become franchises in my hometown mall. [...]
It was impossible to be lazy now, as ideas were commodities and cool a currency. Nostalgia could be downloaded to a mobile telephon and stashed safely in our pockets while we checked the weather and the stock market and moved forward into the past."
AP
Citations extraites du livre/All quotes are from the book
Anthony Pappalardo
(AP)
Max G. Morton
(MGM)
LIVE SUBURBIA
Powerhouse Books
.