ENDANGERED SPECIES (1982)
Par Patron, jeudi 20 décembre 2012 à 12:35 :: FILMS 80's :: #1386 :: rss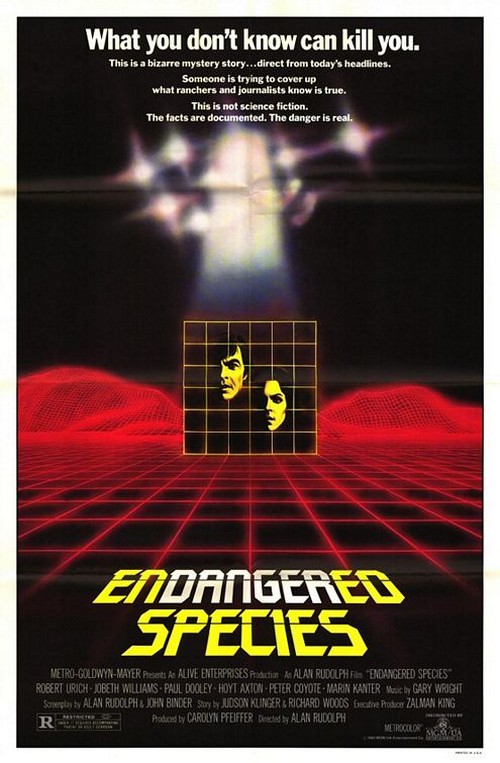 1982. La Guerre Froide, les hélicoptères noirs, Los Alamos, les varsity jackets et surtout les vaches qui disparaissent mystérieusement, quand elles ne sont pas retrouvées mutilées dans les champs. Le phénomène des "
cattle mutilations
" qui peut aussi toucher d'autres races d'animaux est bien connu outre-Atlantique (merci Charles Fort) et nourrit depuis longtemps les plus folles théories. Sont-ce des extra-terrestres qui les auscultent ? Les animaux meurent-ils d'explosions naturelles ? Des cultes sataniques les vident-ils pour satisfaire sa Majesté ? Est-ce un coup du Chupacabra ? Alan Rudolph (
Premonition
,
Roadie
) penche plutôt pour la première piste étudiée, les expérimentations scientifiques et secrètes du gouvernement, en témoigne le message d'inquiétude qui clôture son film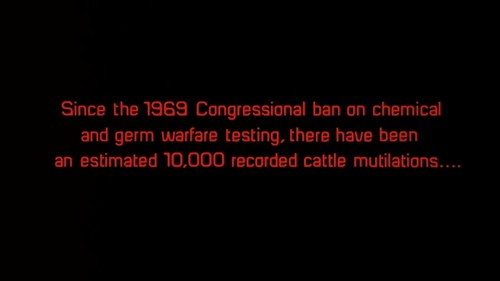 En dehors de cette trame intéressante, le scénario du film assez faible (un flic en vacances enquête accidentellement sur une série de massacres et s'allie (au lit) au sheriff local afin de faire éclater la vérité) est pourtant relevé par une ambiance hyper sombre et énigmatique, accentuée par la bande-son (et les effets électroniques) de Gary Wright, aussi mortelle qu'introuvable. A l'image de cette base paramilitaire. Le climat pesant du film et la paranoïa ambiante nous tiennent suffisamment en haleine pour apprécier la ballade du flic alcoolique anti-conspirationniste au sein de cette flore désertique du Colorado. Rudolph sait très bien suggérer l'insuggérable et nous laisse sur notre faim à la fin, tel un bon épisode d' X-Files. Je veux y croire.
1982. The Cold War, black helicopters, Los Alamos, varsity jackets and chiefly cows, that mysteriously disappear when they're not found mutilated in middle of the fields. The "
cattle mutilations
" phenomenon that can also touch other animal races is well known overseas (thanks to Charles Fort) and since a long time feeds the wildest theories. Are they aliens that auscultate animals ? Animals dying of natural explosions ? Satanic cults everting them to satisfy their Majesty ? Is it a trick of Chupacabra ? Alan Rudolph (
Premonition
,
Roadie
) leans towards the first track studied, secret scientific experiments done by the government, evidenced by the concerned message that closes the movie...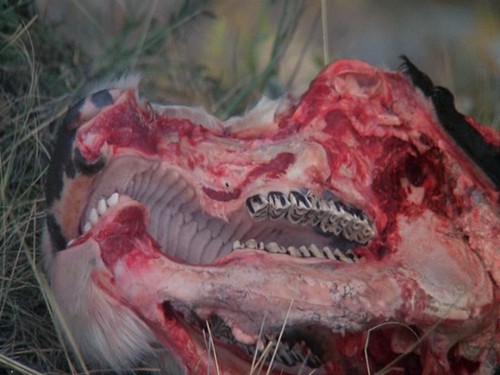 Besides this interesting matter, the quite weak screenplay (a cop in holiday accidentally investigates on a series of massacres and teams (in bed) with the local sheriff woman to bring the truth to light), is yet raised by one super dark and mysterious mood, enhanced by the soundtrack (and electronic effects) of Gary Wright, as untraceable as deadly. Just like the paramilitary base... The heavy climate weighing the movie and the ambient paranoia keeps the suspense up enough to make us enjoy the alcoholic anti-conspiracy cop ride in this Colorado's desert flora. Rudolph knows to suggest very well the unimaginable but leaves us hungry at the end, like a good X-Files episode. I want to believe.