Miseris & Malis
Par Patron, mercredi 26 septembre 2012 à 16:30 :: PUNK/ROCK :: #1329 :: rss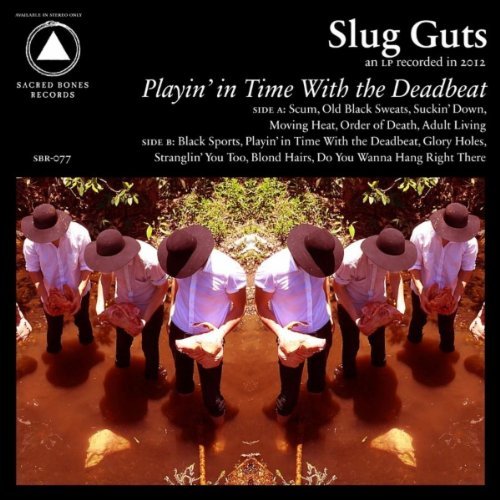 Les
SLUG GUTS
doivent en avoir marre de la soupe hippie de TAME IMPALA made in Perth. Ils écrasent leurs disques psychés et triangulaires au guidon de leurs motos de tourisme, et en chapeaux ronds bien que non bretons. A travers leur ville de Brisbane, les "tripes de limace" refont vivre la tradition rock australienne des BIRTHDAY PARTY ou RADIO BIRDMAN. Le blues du Smith & Wesson quoi. "
Playin' in time with the deadbeat
" est leur troisième album, après "Down on the meat" et "Howlin' gang", et déjà le deuxième sur Sacred Bones Records (toujours eux). Leur son ramène d'ailleurs le label, qui se perdait un peu dans le LSD, à la réalité de la rue. Le single "Stranglin' you too" et sa face B "Suckin' down" sont bien engagés contre les g, et contre la positivité béate de l'indie rock. Toutes les pistes se ressemblent un peu, sûrement dû au batteur de rockabilly qui tourne au ralenti, mais vu que c'est très bien ça ne pose aucun problème. Riffs de guitares sifflants, cuivres dévissés, voix de mec à l'agonie, paroles négativistes, la totalité très sombre est couronnée par une putain de reprise de "
Order of death
" de PIL, chanson jadis utilisée dans le film cyber-punk
HARDWARE
. Un disque pour les rocheurs, les vrais en noir, qui fument des clopes.
SLUG GUTS
must be sick of the TAME IMPALA hippie soup made in Perth. They crush their psyche and triangular records under the wheels of their cruising bikes, with their round hats although they're not Britains. Through their hometown of Brisbane, the "slug guts" make a tribute to the Australian rock tradition of RADIO BIRDMAN or the BIRTHDAY PARTY. Smith & Wesson blues, you know what it's like. "
Playin' in time with the deadbeat
" is their third album, after "Down on the meat" and "Howlin' gang" and already the second one on Sacred Bones Records (always them). Anyway, their sound brings the label, which was a bit lost into LSD, to the reality of the streets. The single "Stranglin' you too" and its B-side "Suckin' down" are committed against the g's, and against the blissful positivity of indie rock. All tracks look the same, probably due to the rockabilly drummer, but because it's very good, there's no problem with that. Piping guitar riffs, screwed brass, dying voice, negativistic lyrics, all this condensed darkness is crowned by a fucking cover of "
Order of Death
" by PIL, a song used once in the cyber-punk movie
HARDWARE
. A record for rockers only, those who smoke fags.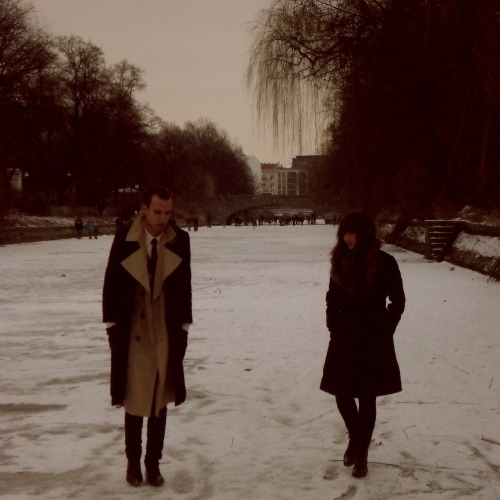 Tout se recoupe puisque Jimi Kritzler, guitariste de SLUG GUTS, s'est allié avec Tara Green, une Berlinoise fan de
Dogs In Space
, pour un projet encore plus goth et désespéré (si c'était encore possible).
WHITE HEX
joue avec la mort et rappelle le déménagement à Berlin des natifs de Sydney, CRIME & THE CITY SOLUTION, au milieu des années 80. Sauf que eux louent une bat cave. Même proposition morbide, ultra lente, le côté garage effacé et le côté post-punk accentué. L'album de 6 titres est ironiquement appelé "
Heat
" et est sorti sur l'excellent label italien AVANT!. La guitare de Jimi, sans être Hendrix, fait encore toute la différence et élève cette voix de fille triste (qui sont priées au passage d'arrêter un peu d'inonder la scène) à un autre niveau que celui de sa chambre. Nous voilà enfin débarrassés de l'été, ouf !
Any is overlapping, Jimi Kritzler, SLUG GUTS' guitarist, has teamed up with Tara Green, a Berliner fan of
Dogs In Space
, for an even more goth and desperate project (if it was even possible).
WHITE HEX
plays with death and recalls the moving to Berlin of the old Sydney band, CRIME & THE CITY SOLUTION, when in the mid 80s. Sure they rent a bat cave. They share the same morbid proposition, ultra slow, cleared off the garage side and post-punk higlighted. The 6 tracks album is ironically called "
Heat
" and was released on the excellent Italian label AVANT!. Jimi's guitar, while not being Hendrix, still makes a difference and raise the sad girl voice (who are asked to stop starting a band each week) to another level. We have finally been released from summer, phew!